Of all the new features that were introduced with  Lightroom 3, Publish Services may be the most overlooked. With social media and photo sharing being an important part of a photographer's toolbox these days, taking the time to become familiar with Publish Services is well worth it.
At it's simplest, Publish Services provides you with a two-way connection between Lightroom and various social media services as well as your hard drive.
If you haven't started using Publish Services, you may be wondering how this differs to simply exporting photographs via the standard export dialog or through one of the many excellent plug-ins that are available. The key is in the two-way connection. Unlike a simple export and upload, the two-way connection always changes to be made back and forth.
I'll go into it in more detail later in this post but essentially what it means is that any changes you make in Lightroom to the image can be reflected in the uploaded version. Additionally, comments and "likes" on Flickr or Facebook can be seen and replied to from within Lightroom.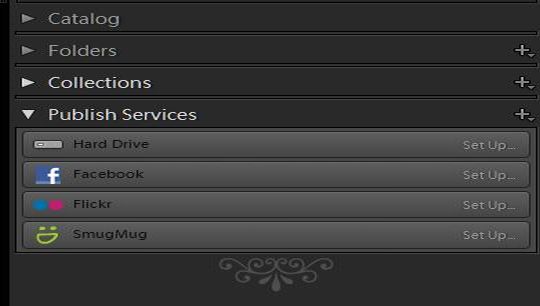 The Publish Service panel is found in the Library module on the left of the screen. At the time of this writing, there are four options as you can see in the screenshot above. Three of these are online services (Facebook, Flickr, SmugMug) and one is for a local hard drive. Let's start by looking at the set up and usage of the hard drive option.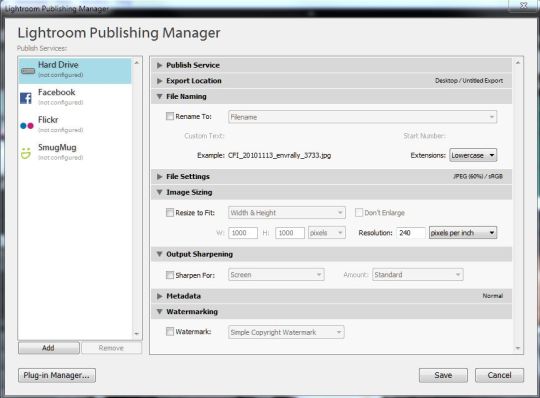 When you click on the set up text in Publish Services, it opens up a dialog box that should look fairly familiar. For hard drive publishing, the options are basically the same as for exporting, with options for destination, naming, metadata, watermarking and so forth. Once you've set it up the first time, you can create different folders, folder sets and smart folders. Smart folders are probably the handiest feature here. In the screenshot below you can see I've created a smart folder called Lonely Planet with two rules.
It will automatically add any image that has lpi in the metadata and was photographed in Taiwan. I can do this for each country I create images that are destined to be submitted to Lonely Planet. Any revisions made to them in Lightroom can then by synced directly to the saved image on the hard drive.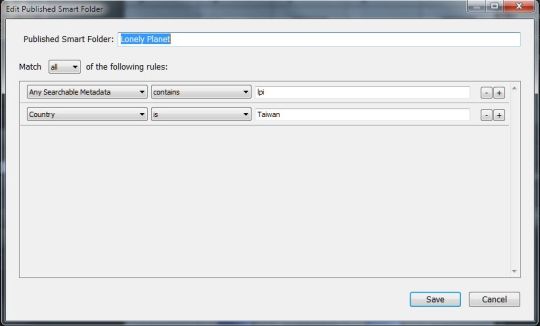 Other possibilities for smart folders and their rules may include:
A folder for images edited in Photoshop with the filetype set as PSD.
A folder for images that haven't had copyright registered.
A folder for images that have GPS data.
A folder for images that have been cropped.
Online Services
The ability to publish photos online straight from Lightroom and have any later changes in Lightroom reflected online as well as online activity shown in Lightroom is one of the advantages of the Publish Services. As mentioned above, Facebook, Flickr and SmugMug are the options at this time. They can all be set up through the Lightroom Publishing Manager which has different options for the different services.
Common to all of them is the need to log in to and authorize the account, as well as naming, resizing, watermarking, sharpening and metadata options.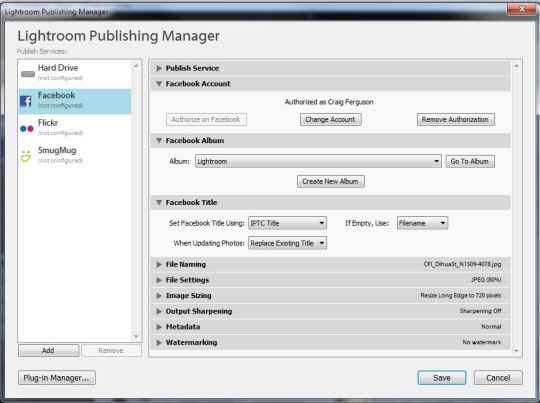 Starting with Facebook, you can see in the above screenshot that there are a couple of Facebook-specific options. You can either set it to upload to an existing album or create a new album. I don't upload a lot to Facebook, so I've just created an album called Lightroom that I use for occasional previews. In the Facebook Title options, you can elect to use Filename, IPTC Title or no title on your upload.
Make certain that you double check your image size and file settings before – Facebook has recently allowed for hi-res uploading and coupled with their terms and conditions, you may be granting them a royalty-free license when you upload. Flickr and SmugMug follow much the same procedure for uploading. In the case of Flickr, there's also the ability to set privacy levels and SmugMug allows you to synchronize hierarchies and gallery settings.
Once you have set up your Publish Services, you can create and manage photographs within them into publish collections. Click on the New Published Collection (+) option at the top of the Publish Services panel to access the following menu. You have options for each of the four publish services. You can also access these options by Control-click (Mac) or right-click (Win) in the targeted service.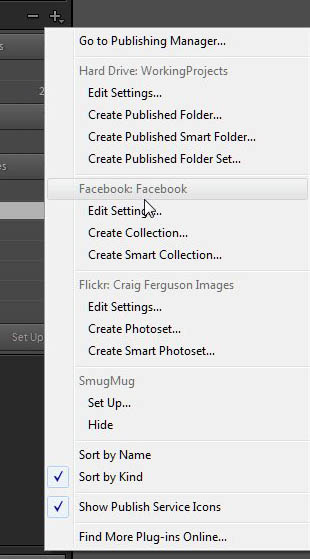 Focusing on the three online services, you have the following options.
Facebook
Create Collection
Create Smart Collection
Flickr
Create Photoset
Create Smart Photoset
SmugMug
Create Gallery
Create Smart Gallery
Create Category
For hard drive publishing, you can
Create Published Folder
Create Published Smart Folder
Create Published Folder Set
To get your photos into your targeted service, select them in either the Grid View or the Film Strip and simply drag and drop into the desired location. You can see in the following screenshot that I've got a selection of photos destined for my Flickr Photostream. Of the 14 photos in the grid, 6 are listed under Published Photos.
This means that they are in the same state as they were when they were last published. The other 7 photos are described as Modified Photos to Re-Publish. These have had some kind of change since they were published and need to be updated. There is also 1 under New Photos to Publish.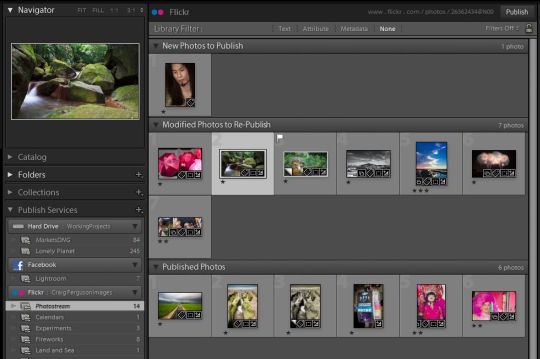 To publish or re-publish, simply select the images you have added or updated and click on the Publish button in the upper right. Photos that have been modified since the last sync will update the online version with the new changes. Modifications need not be major changes to the photograph.
Something as simple as adding an extra keyword could cause it to get listed as a Modified Photo. The process of publishing is a two-way connection. When you update the photos on the online service, any comments, likes or favorites that it has received will become visible in Lightroom, in a panel on the right underneath the Metadata panel.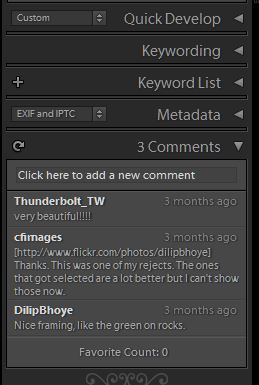 As you can see above, you are able to read and respond to comments from within Lightroom. In the text panel where it reads Click here to add a new comment, you can write your reply and it will be reflected online the next time you re-publish the photos.
Before I finish, there are a couple of miscellaneous points to note about Lightroom's Publish Services.
If you have multiple Flickr accounts (for example, one personal, one business), you can create separate publish services to each.
If you remove a photograph from the collection in Lightroom, it will be deleted online next time you re-publish.
There doesn't seem to be a way of uploading to a Facebook fan page, only a personal page.
It's important to remember that Publish Services are a relatively new feature. Lightroom 3 shipped with options for Hard Drive and Flickr only, Facebook and SmugMug came in a Lightroom update. I would expect more services to be added in the future.