Do you schedule time in your work diary for fun?
I'm prepared to put money on a bet that you don't because even professionally creative people can lose sight of the importance of play. The problem is that it doesn't feel like work, does it? Yet one of the key component of a successful creative career is to never stop playing.
Playful experimentation leads to discoveries that are uniquely yours and it's a means by which you can develop a creative practice that sets you apart from others: that elusive, distinctive style or brand.
This is why I encourage everyone who asks me, "How did you do that? What apps did you use?" to go out and mess around with their phones, discover as much as they can for themselves, and then come back to me with questions. That way, I can help them to find answers that are more personally specific.
Does this feel unsettlingly counter intuitive to you? Perhaps you're the kind of person who prefers to thoroughly read a technical manual before working with a new piece of camera equipment. That's fine too, but free fall experimentation still needs to be factored in at some point.
Can Distraction Be Helpful?
When we play, we throw away the manuals and rule books, mistakes become opportunities to discover and innovate. Have you noticed that often, when you stop consciously trying to find the answers to a problem, solutions somehow magically spring to mind?
The trick is to pay attention to what happens when we think we're not paying attention.
As creative people, we are constantly asking ourselves questions, setting ourselves challenges, and pushing ourselves out of our comfort zones. What some might refer to as navel gazing or daydreaming is, in fact, a necessary part of the creative process. If we're clear about the questions we're asking then answers will present themselves through whatever activity we're engaging in.
The trajectory of multi-award winning photojournalist Ben Lowy's career demonstrates the fine balance between holding onto creative questions while at the same time trusting that things will work out if we dare to do.
A Total Game Changer
Around 2008, Lowy began using his iPhone camera for fun and convenience, taking shots of things that caught his eye when he wasn't working. He soon recognized that the look of the then-unusual vintage-effect photographs produced by an app called Hipstamatic could play an important role in his professional work.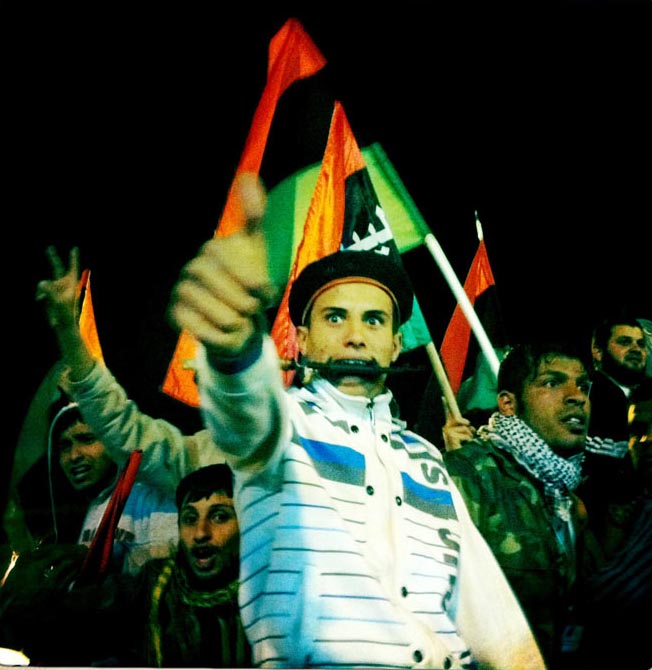 Photograph © Ben Lowy
Lowy had been seeking a way to capture the attention of news audiences who, he believed, were no longer engaging with stories. He concluded that he needed to find an aesthetic hook: a look that people weren't used to, "to get past their apathy . .. and help deliver the content."
Describing the iPhone and its photo editing capabilities as the, "… darkroom in your pants," Lowy's first attempt to use his iPhone on an assignment was dismissed, not because the photographs were perceived as bad but because his editors did not consider the iPhone to be a credible photographic tool.
Trusting his instinct, Lowy continued to shoot with his iPhone. During a 2011 New York Times Magazine assignment in Kabul, Afghanistan he discovered that what the iPhone camera lacked in technical control, it made up for with its ability to retain intimacy and not interrupt the scene.
New York Times Director of Photography Kathy Ryan not only published the image, but wrote an editorial fully supporting Lowy's choice of camera equipment. Lowy seized the potential of mobile photography's connectivity to Social Media channels, seeding his Instagram and Tumblr accounts with the photographs he was shooting for clients such as Condé Nast. This meant that he was able to publish images and stories online, months before they could be printed in magazines!
News storytelling was now immediately and directly in the hands of the photographer. There were no longer any middle men. This was totally new territory and with an admirable entrepreneurial spirit, Lowy recognized that he could use the process as a marketing tool for his business.
Time magazine was one of the first publications to seize Lowy's idea and run with it. In November 2012, they commissioned him and four other photo journalists to document Hurricane Sandy using only iPhones. Lowy waded into the crashing waves with nothing but his iPhone in a ziplock bag, capturing visceral images of the tumult: one of which was to become a memorable TIME cover photograph. Others may be found in the book SANDY: a charity project produced to raise money for victims of the natural disaster.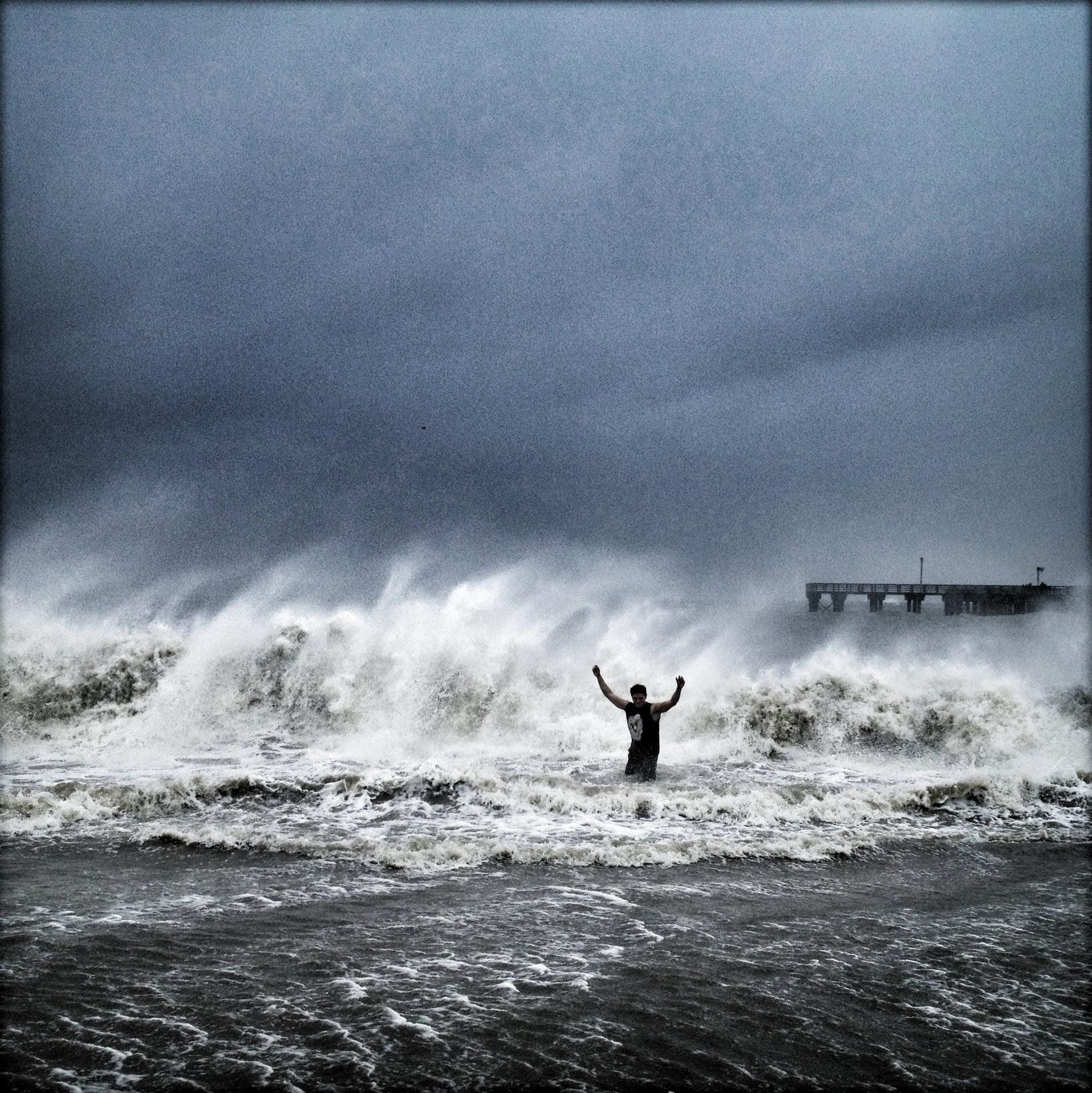 Photograph © Ben Lowy
Lowy still shoots with his iPhone but as a creative maverick who doesn't stay still for long, he has now moved on from using Hipstamatic filters.
Despite being one of the people responsible for changing the conversation about mobile photography, he now regards the iPhone simply as another tool in his camera bag, posing the question, "If it's the image that's of primary importance, does the tool used to render it make it more or less valuable? What is the process?"
Does it matter?
Lowy's keen eye and innate talent for visual storytelling have won him many awards. The work he produces continues to be fresh and potent because:
He constantly re-examines and pushes the boundaries of his image making process.
He's not afraid to experiment, even when working in challenging conditions.
Without being a slave to it, he is able to recognize and seize both creative and entrepreneurial opportunities presented by new technology.
By shooting with his iPhone from the front lines of prisons, hospitals, and war zones, then immediately posting photographs to social media feeds, Lowy covered stories previously overlooked or ignored by news agencies, forcing them to reevaluate their agendas.
He didn't set out to do this. His innovations were the byproduct of not sticking to what he knew but trusting his creative instincts, fearlessly ignoring the possibility of failure and rejection.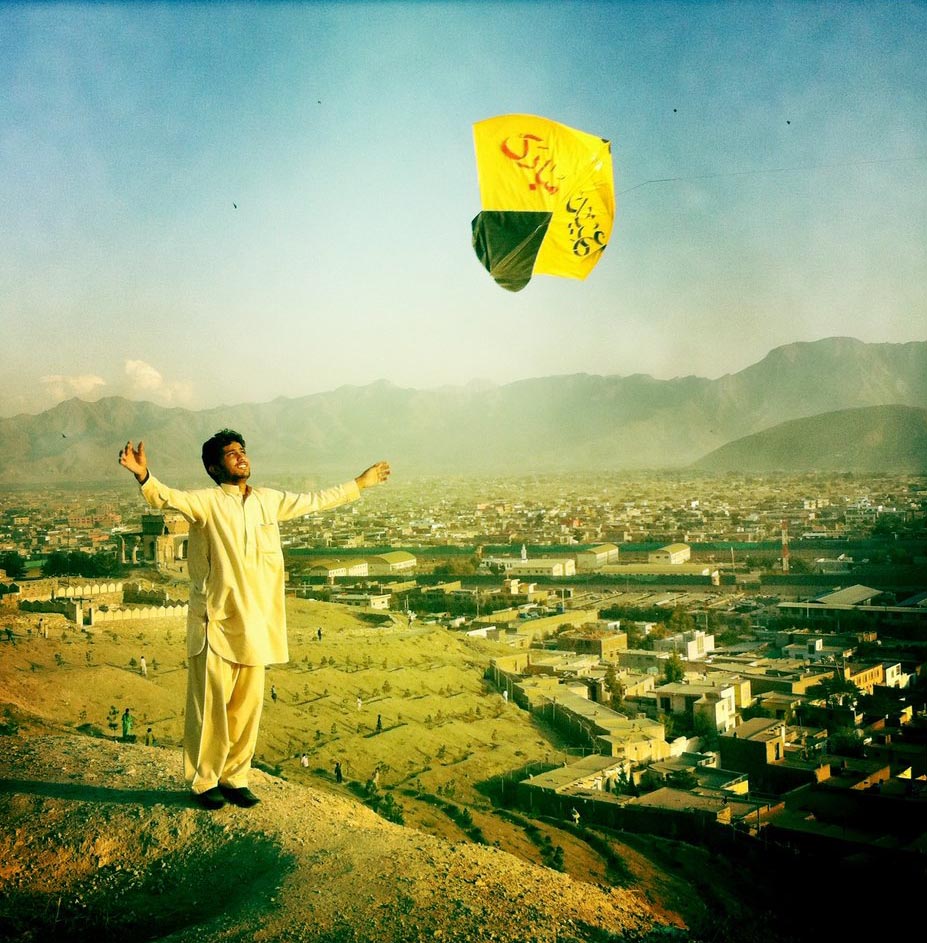 Photograph © Ben Lowy
He passionately believes that, "… technology can change the way we see the world, change the documentary, change the experience".
When he began shooting with the first iPhone, there weren't any manuals, there weren't any rules, he made it up as he went along and in doing so, Lowy changed the face of photographic journalism forever.
At the beginning of this article,  we looked at how investing quality time for creative experimentation can help you to discover your personal photographic signature.
Ben Lowy recognized that in an image saturated world, he needed to find a unique visual hook that would grab viewers' attention to his stories.
Read and see more of Ben Lowy's work here and follow him on Instagram.
Let's Make This About You
What's your hook? Have you yet to find one that feels like a perfect fit? Perhaps you already have a distinctive photographic style but are looking to refresh your vision?
After all, getting on a quest for doing what you are best at has got to be worth it. -Nicholas Bate
Whatever your current mission, here's a challenge that will kick-start your journey: download a photo app that has in-shot processing filters and really get to know what you can do with it. There are hundreds to choose from but I've provided a short list below. If you're an experienced app shooter, choose one that's new to you.
Work with presets, in the moment, resisting the temptation to post process. Begin by chucking everything in the air, exploring the possibilities even if some or all of them appear far too wild and exotic compared with your usual style.
Here's What To Do
One great way to push yourself beyond your comfort zone is to use the random setting that some shooting apps provide. There are so many possibilities, you'll be sure to find at least one look that gets your creative juices flowing. Once you have, commit to working for a while with just this one setting/filter combination. Explore a wide variety of subject matter, settings and lighting conditions, pushing the app to the limits of its possibilities.
If you've already found your hook, how about turning things on their head and looking for another? If color is your passion, play with black and white; if you usually work in B&W, experiment with ways to inject color into your visual story telling.
What about format? Are you square? Try working with a wide panorama aspect ratio. You're a focus perfectionist? Experiment with blur and slow shutter effects.
Here are some suggestions from my personal iPhone camera bag:
Hipstamatic (of course!) hundreds of filter combinations to choose from.
Lenka: provides a selection of vintage black and white presets
Camera Bag: vintage effects
6×6: square format, small selection of both color and b&w presets.
Slow Shutter Cam (does what it says on the tin)
It's useful to document your process in some way. Documentation is a powerful tool for creative development, enabling you to have an overview of your progression along the learning curve, how your brain is processing new ideas, reflect on where your creative journey has taken you thus far and make decisions about which direction to explore next.
Consider creating an Instagram or Tumblr account to journal your experiments. Remember, this is your creative process, you're looking for your unique hook that's an expression of your vision.
Keep it private.
This way, you'll feel comfortable posting the good, the bad and indifferent. You'll also learn to listen to your instincts rather than being influenced by the number of likes a photograph receives (another topic I'll be returning to at a later date!)
You could even (prepare yourself, because this is radical) print your photographs (the XEQUALS way) and stick them into an album (remember those?!). Keep them loose in a special box so that you can experiment with image sequencing by moving them around.
Looking at prints of our work is a completely different experience to viewing them on screen. Personally, I find that getting touchy-feely with my photographs helps me to see work more objectively and shift my process in new directions.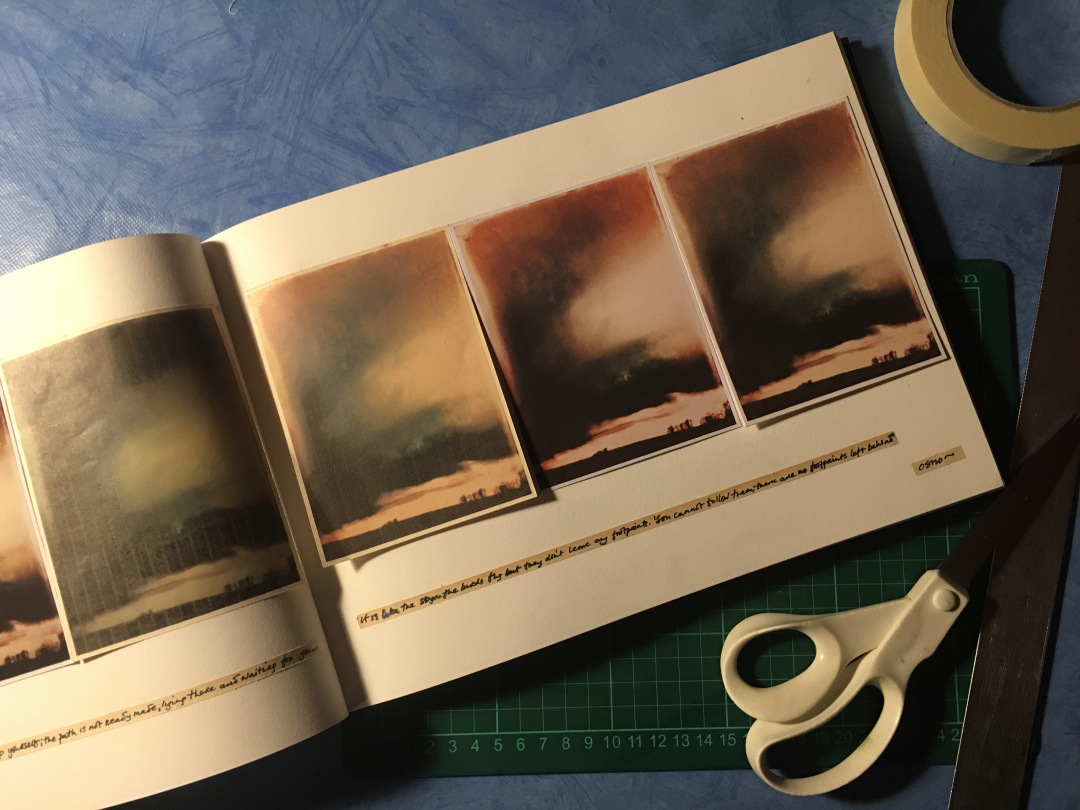 Photograph © Nettie Edwards
This doesn't have to be a costly exercise. Earlier this year, I spent two months living and working in Sweden during which time I kept a scrapbook of prints so that I could keep track of the way my ideas and approach to landscape photography were evolving.
I used a portable Canon iXus printer and whatever paper was to hand, including recycled IKEA bags. At home, I do the same thing with a very basic $50 Epson Expression home office printer.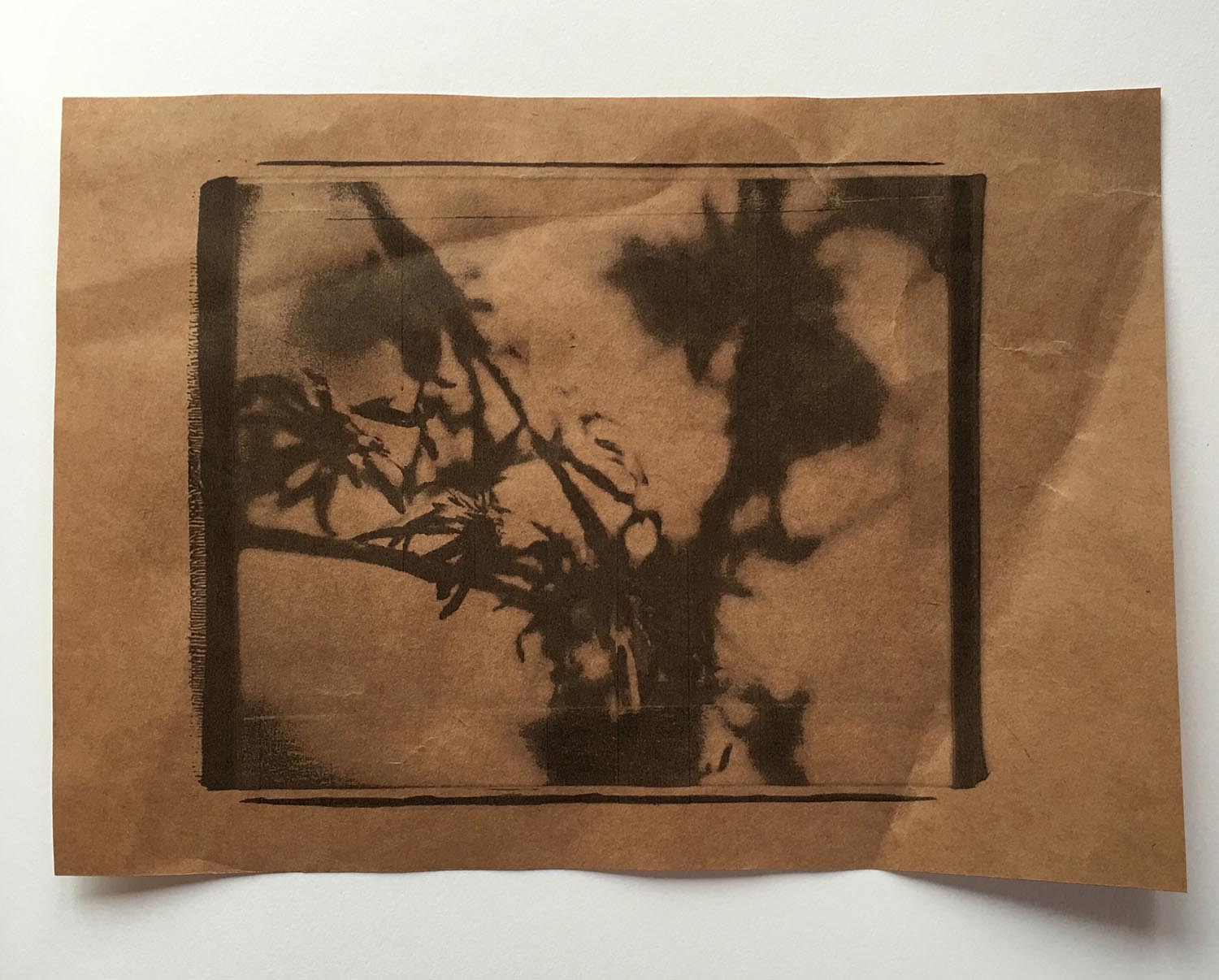 Photograph © Nettie Edwards
To wind things up … play is something we should all take more seriously. Don't expect changing the no-fun habit of a lifetime to be easy, you must be prepared to commit yourself wholeheartedly to it.