You know all of Robbie Maddison's crazy jumps, the Extreme Sports Channel is what you chew on for breakfast and most of your Saturdays are spent on a skateboard. Truth be told, you're a real action sportsaholic. Meanwhile the photographer inside of you has been screaming for days or months to come out and you'd let him (or her) if you just had a bit more know-how on the approach of capturing fast action.
Now is your time to get out there and we'll show you how.
The Planning
Getting up here wasn't easy, plowing through snow with those heavy skiing boots isn't exactly the most favorable thing to do, although the view of the mountains and those fresh powder fields awaiting you below clearly compensate for all the time and effort you've put into this.
The hit (approach to the jump) is one of absolute beauty, whether that is because you've built it with your own hands, or it is one curved like a Greek goddess, it doesn't really matter, because you just know this will work.
Now it's just a matter of a few moments before the the wind pushes that last cumulus away from the sun.
You're friend is already up there and straps on his boots. You get in position, there's the 3-2-1, you hear the hissing of the snowboard rapidly gaining speed, chop, lift-off, click(!) and a smooth landing.
There it is, one excellent photo never to be forgotten.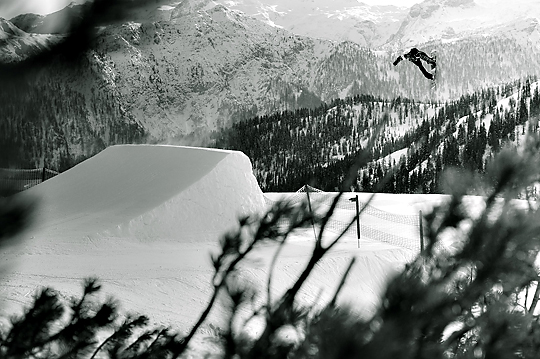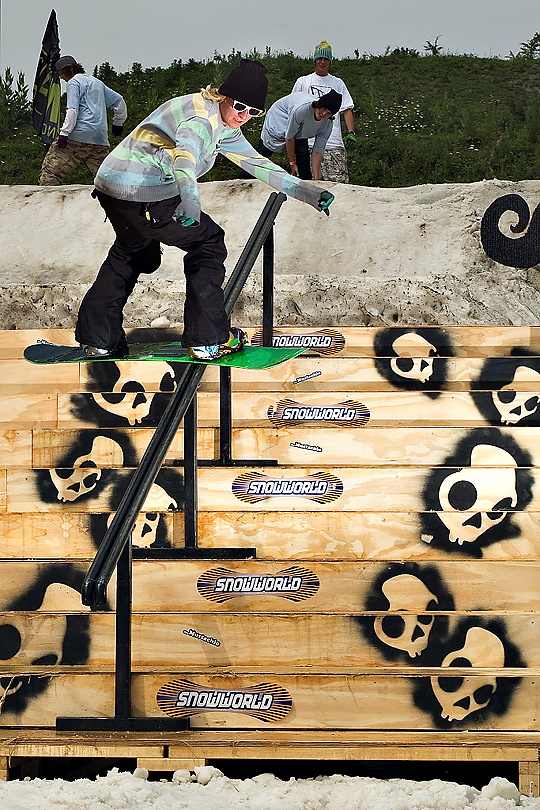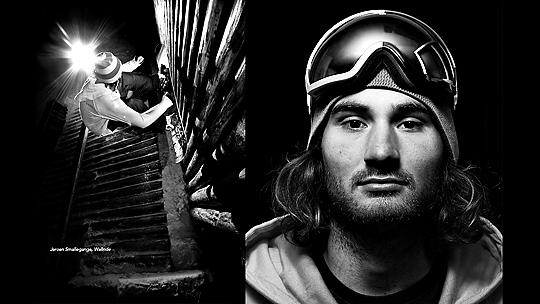 All Photos © Peter-Paul de Meijer
Camera
Most photographers I know shoot with a Canon or Nikon DSLR. Don't go medium-format or film SLR unless you know what you're doing. If you're new to photography I'd suggest getting an older DSLR and investing in glass. Buy a fast, low-light portrait lens (eg 35, 50 or 85 millimeters; f/2.8 or faster), and depending on what sport you're trying to shoot a telelens, but try to stay away from teleconverters as they will eat up light, slowing shutter speeds.
Sure it's nice to have a fish-eye in your lens-kit, but it's certainly not the first thing you'll need.
If you're into sequences and skateboarding is the sport you're covering look for a camera that shoots at least 8 frames per second. If it's skiing or mountain biking, 6 frames per seconds will be just fine.
Timing
Whether it's on foot, wheels, snow or water, if you're trying to capture a great photo, be sure to know your sport. In action sports, timing, not only for the athlete but for the photographer as well, is most important. Since most of the action you're trying to capture takes place in just a few milliseconds, timing is essential to have a good feeling for the sport.
If you're already acquainted with the sport, chances are big that you're already there. You know when to press your back foot down to catch that kickflip, whilst pushing that tailwhip you know how important it is to lift your legs up.
However, if you're new to the game try to get familiar by looking through magazines and see at what point professional photographers have been freezing their frames.
Composition
Composition to a photo is what a banana is to a monkey. It's pretty obvious that good composition is essential for good photography. Although the internet is stacked with information on composition in sports here are a 5 tips that generally apply in most, if not all, fields of action sports photography.
1. Be sure to capture the whole story
This one is important. Sure it's nice to have a photo of your friend hanging mid-air, but without a way in or way out it's hard to read. It's a bit like ordering Chinese in a fine steak restaurant, it's nuts! Be sure to capture at least a small part of the take-off and the landing.
2. Centering or the rule of thirds?
The rule of thirds will be your safety-line in most of the cases. However centering does work from time to time, so keep your eye out for symmetric opportunities.
3. Fresh angles
Good angles can be hard to find, but they are everywhere. Look around, go high, go low, life is short, but if waiting a few more minutes would incorporate the gondola, I'd know where to put my money.
4. It's faces we're looking for, backsides please move on. It's simple, faces show emotions, faces connect, without faces life would be boring.
5. Straighten your horizon – Columbus knew the earth was not flat.
One extra tip is to keep things simple. People like to get a good overview and cluttered backgrounds just won't help.
Again, don't be shy to peep in those magazines to learn what works and what doesn't. Composition is what makes or breaks a shot.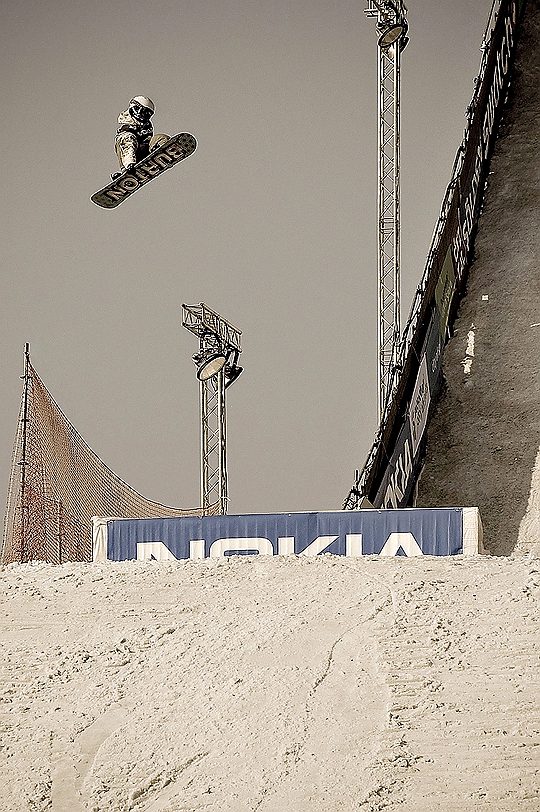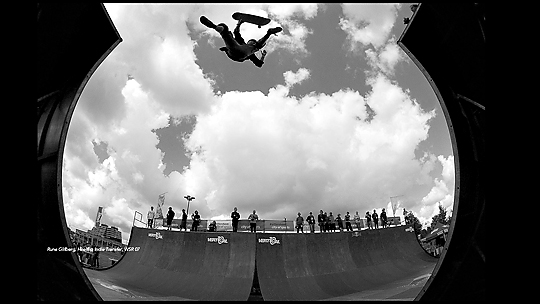 All Photos © Peter-Paul de Meijer
Setup
Action sports are all about sharpness, so shutter speeds slower than 1/500, please move on. Basically you'll always pick the the fastest shutter speed that suits your lighting. On blue-bird days and occasions with plenty of light bring in a bit of depth by playing around with your aperture. Although action sports are all about the heat of the moment, take your time to choose your location and don't forget to focus before the action takes place.
On darker days seek shelter in a higher ISO before you choose to lower your shutter speed. You'll want full control over your lighting so turn your camera to Manual mode.
In lower light situations, when the ISO hat-trick isn't working for you anymore, you might want to consider getting your strobes out of your bag. Flashes during the day will require a flash synchronization speed of over 1/250th of a second. In the darks you'll be fine with both a lower synchronization and shutter speed. Always be sure to keep your shutter speed lower than you're flash synchronization speed, or you'll get half-lit frames.
The more flashes you use the better you'll be able to separate the subject from the background and the clearer the action will get.
Firing multiple flashes can be achieved by good old fashioned wiring, but aren't preferred in a watery surrounding, due to a lot of mis-firing. The more reliable way is to use radio-transceivers, like Elinchrom Skyports, PocketWizards or RadioPoppers. You could go for the cheaper eBay transceivers, but those often lack the distance the big brands do have. A less reliable but cheap in-between option is slave-units.
Remember, try to keep things simple and don't show your flashes in the photo.
Gear
So how did you get up there anyway? In an ideal situation you'd probably have an expensive DSLR carried up with you by some specially trained husky, who'd ideally carry a small supply of liquid beverages too.
In a less comfortable world you'll always have to cope with the balance of not carrying too much gear, but certainly not forgetting things either.
There are plenty of ways to carry your camera equipment around the place, but if you're into action sports photography, you'll generally want to keep your stuff protected from most forces of nature, and stay mobile at the same time.
Plenty of camera manufacturers, third-party manufacturers and even the bigger outdoor have come up with a backpack targeting the action sports segment. Lowepro, Burton and Dakine all have their own specialized packs. F-Stop has even bigger packs, with a metal frame inside to keep your gear even safer.
Whichever bag you should pick, be sure to get one with straps on the side. Those will come in handy for carrying your tripod and lightings stands, your shovel, and your helmet.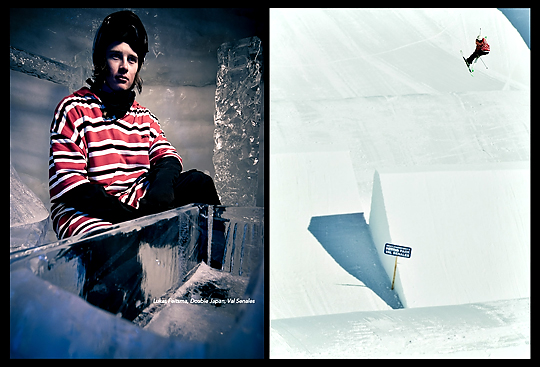 All Photos © Peter-Paul de Meijer
Get out there!
Ofcourse there's much more to action sports photography than meets the eye. In the end it's the combination of action, timing, composition and a bit of luck that will ultimately deliver you a great photo.
As with everything, practice makes perfect and I encourage you to pick up your phone and call your buddy to get out and shoot this instant.
Let's see what you've got.