How Do I Download My Purchase?
Do you need to download your precious XEQUALS morsels?
You have control of your destiny:
Go to "My Account."
Log in with your XEQUALS Username and Password.
Find your downloads in "Recent Orders."
How Do I Install My XEQUALS Presets?
Installing XEQUALS Presets for Lightroom is a snap! We even have a video that shows you how.
How do I install Adobe Camera Raw (ACR) Presets For Phtoshop?
This is also super easy to do.
How Do I Best Use My XEQUALS Presets for Lightroom and Photoshop?
Easy as 1, 2, 3.
Select your favorite image.
Shape that beautiful piece of visual sculpture using XEQUALS unique Tone, Mix, and Grain film Presets
It really is that easy.
We've laid the groundwork for you with a simple, easy-to-replicate workflow from a seasoned pro that shows you the true velocity of editing you can achieve with the platform. Check out A professional printer's approach to using XEQUALS presets.
We also have examples of how using the XEQUALS Platform within Lightroom or Photoshop can help you develop your unique style in our step-by-step guide to photography style.
If you're the kind of photographer who gets inspired by real-world examples then see how everything fits together to create awesome experiences.
Can I Seamlessly Upgrade To Other XEQUALS Products?
You betcha!
All of our products are modular not only in their use but in how you implement them in Lightroom or Photoshop and will live in sweet harmony on your system!
Can I Use XEQUALS Presets for Lightroom and Photoshop On My JPG Files?
Uhhhhh, yeah!
While shooting in RAW is ideal, we know you sometimes you want to use JPG's or other compatible formats too, and we're way cool with that.
How About My Video Files, Will They Work On Those?
Oh yeah! You can color grade any Lightroom compatible video format with any of our Presets using the Library Module.
What Credit Cards Do You Accept For Payment?
XEQUALS can accept VISA, MasterCard, American Express, JCB, Discover, and Diners Club cards for payment on any products and services we offer.
Do You Accept PayPal?
We've been accepting PayPal for years – you're totally covered!
Do You Accept Checks Or Money Orders?
Nope.
Is Your Stuff Secure?
First off … YES and YES.
For your own security, and the security of the entire XEQUALS community, we've done a few things to take our obsession with security as far as we can:
Our entire website (that's right, EVERYTHING you view on our site), is wrapped is a 256-bit SSL Certificate signed by GeoTrust Inc.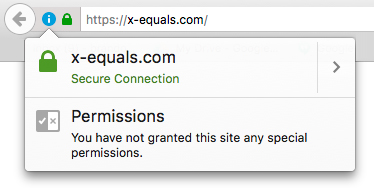 You see that green lock icon in your browser? That's a good thing!
All Payments are processed by Stripe or PayPal, and these trusted partners take your security just as seriously as we do.
XEQUALS
Inside every one of us is an amazing photographer.