How do you edit your images when you are jetting across the sky at 39,000 feet and your photos are back in the office on a motionless external drive?
If you are using Lightroom, you can thank Adobe for their Smart Previews feature as a solution to the 'always connected' problem. In this post we'll take a look at how to set up Smart Previews and how you can benefit from this unique feature.
Lightroom's Smart Previews sets us free to work on our images on the road or between computers.
Being The Smartest Guy In The Preview
Lightroom is just a catalog of all your images and much like a real-world catalog, the originals are stored elsewhere. This is very handy as your originals are kept safe and never actually edited, just a virtual representation of the images is edited inside Lightroom.
What if you travel with your laptop and store your images on an external drive? Or use an external drive in the office? Or manage your images on a network attached storage (NAS) device?
Smart Previews might be very useful for you. They allow full use of the Develop Module on your images even when the originals are not available! Also, they allow the easy sharing of catalogs between coworkers or between multiple computers (such as a travel laptop and office computer).
Keeping It Simple
Setting up Smart Previews can be done in a few ways.
First, when importing images there is the option to create the Smart Previews as the images are imported, no matter if you are copying, adding or moving images into your Lightroom catalog. To do this you only need to select the check box in the upper right corner of the import screen. It's that simple.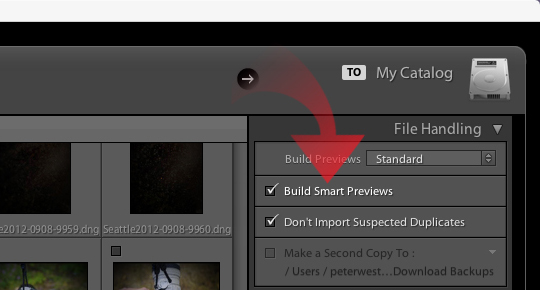 Second, if you know you want to work on a subset of your images offline, simply select the images from a catalog, folder, or individually, and from the Menu select Library and then Previews. You will see an option to Build Smart Previews listed near the bottom.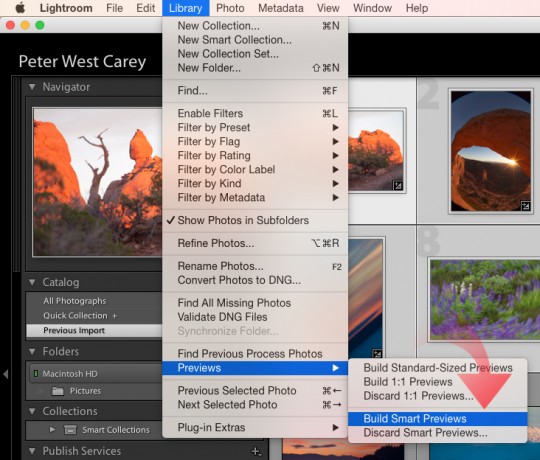 You can also create them when exporting images to a catalog. With your images selected for export click File then Export as Catalog.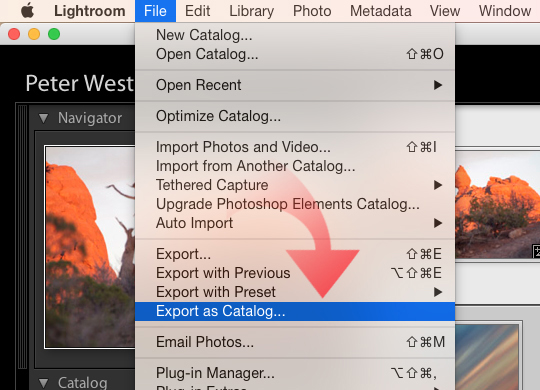 You will then see the option to Build/Include Smart Previews.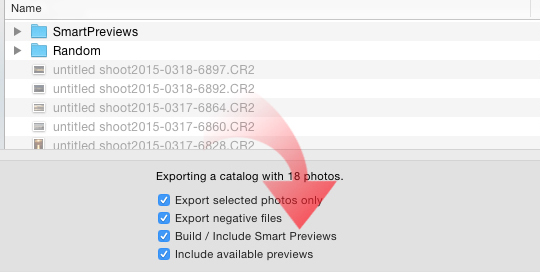 Creating the Smart Previews instead of including the original files on export will often save you between 70-90% of the original file size.
Once created, you will notice in the Library Module, over in the Histogram pane on the right, a note that a Smart Preview of this image is available.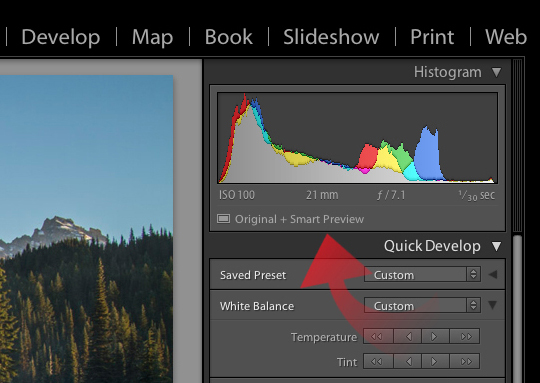 Editing From Anywhere
I personally use Smart Previews to move subsets of images between two machines in geographically different locations. The file size is often small enough (nearly 5-10% of the original file size) that I can simply put the exported folder on Dropbox before I leave and it is on my other computer when I arrive.
Less cords, less power use from an external drive and a great use of flight time!
Since my Lightroom catalog is over 3.5GB large, and my images take up close to 3TB, this is a very useful way to work on images in two locations. After the edits are finished and I return to my main workstation, I can simply import the sub-catalog back into the original.
Here is an example of 33 images exported as a catalog. The Pictures directory is 691MB while the Smart Previews file (all the images are contained in one file ending in "Smart Previews.lrcat") is only 35MB.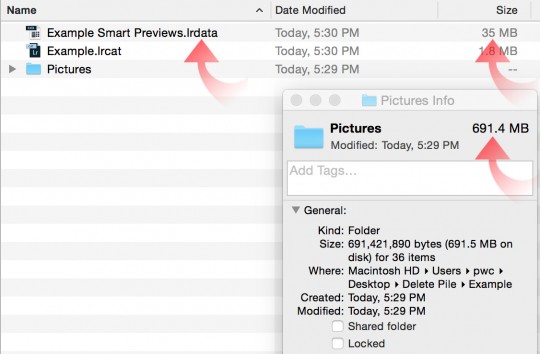 You can use Smart Previews while traveling to get a start on edits while in transit. I find long distance flights are an excellent time to get some work done while the thrill of the trip is still pulsing through my veins. Before jumping on the flight I will hook up my external drive to my laptop and import the most interesting images I want to play with on the way home.
While Lightroom performs the import it will create the Smart Previews while leaving the originals on the external drive, which makes the process pretty quick. I can then store my external drive safely in my carry-on and start editing. Less cords, less power use from an external drive and a great use of flight time!
Yay Technology!
One additional advantage to using Smart Previews as compared to standard previews is the ability to export the images (with certain size restrictions). The maximum size on the long edge is around 2500 pixels (size varies slightly), large enough to post to any social media sites. You can also use Lightroom's Publishing Service and post the images to the likes of Flickr, ZenFolio, and Smugmug among others.
All this functionality is not without its limits.
Exports of images are limited to about 2,500 pixels
Photo books can't be published without access to the original images
Exercise caution when sharpening Smart Previews. If you sharpen images and then view the Smart Preview(s) at 100%, they won't appear as sharp as when viewing the original image(s) at 100%.
Video slideshows created with Smart Previews can only be rendered as PDF files because of Smart Preview limits
For mobile photographers, using Lightroom is a boon in functionality. No longer are you permanently tethered to your original images (which can be a sizable mass of images for some of us).
Smart Previews sets us free to work on our images on the road or between computers. It also allows us to share a catalog with coworkers and reimport their edits into a master catalog.
In other words, a kind of freedom that makes us more productive than ever before.
Let us know what you think of Smart Previews and how you use it. Is there a Smart Previews trick that you use? We'd love to hear from you!