What would you say if I told you I made more money last year going after the illegal use of my images than I did from selling stock photos?
While stock is not my bread and butter, I was amazed to find how many companies and individuals had lifted my images for their own use.
I found them with the help of a company called Image Rights™, a company that works as a middleman to find infringements on your copyright and to assist in recovering payment.
Image Rights™ is, in my mind, a must-have for any professional with a large and available portfolio. It even works well for amateurs who have a significant presence of quality photos online.
The company uses image recognition software to scour the internet for your photos, using technology similar to Google Image Search or Tineye. When a match to one of your photos is made, they inform you and ask what you want to do.
To be sure, not every infringement is worth pursuing. Individual blogs and sites in certain countries are not worth the effort.
But when it comes to blatant commercial use of your image, Image Rights™ partners with a number of legal firms to go after the infringer and attempt to recover fees for you.
There is a fee to pursue each infringement. Payout percentages vary when the firms are successful, but we'll get into that more in a bit.
Let's start at the start.
Getting Started With Image Rights™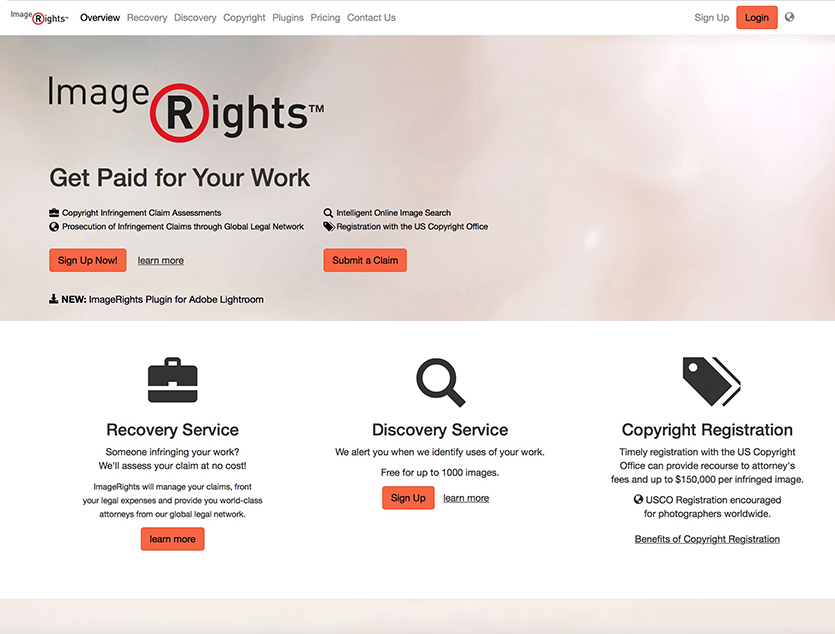 The first step involves a simple signup process. Name, email, the normal stuff. When you register, you can upload 1,000 images that will be assessed for matches on the Internet for free.
After that, they offer three levels of service for additional annual subscription prices.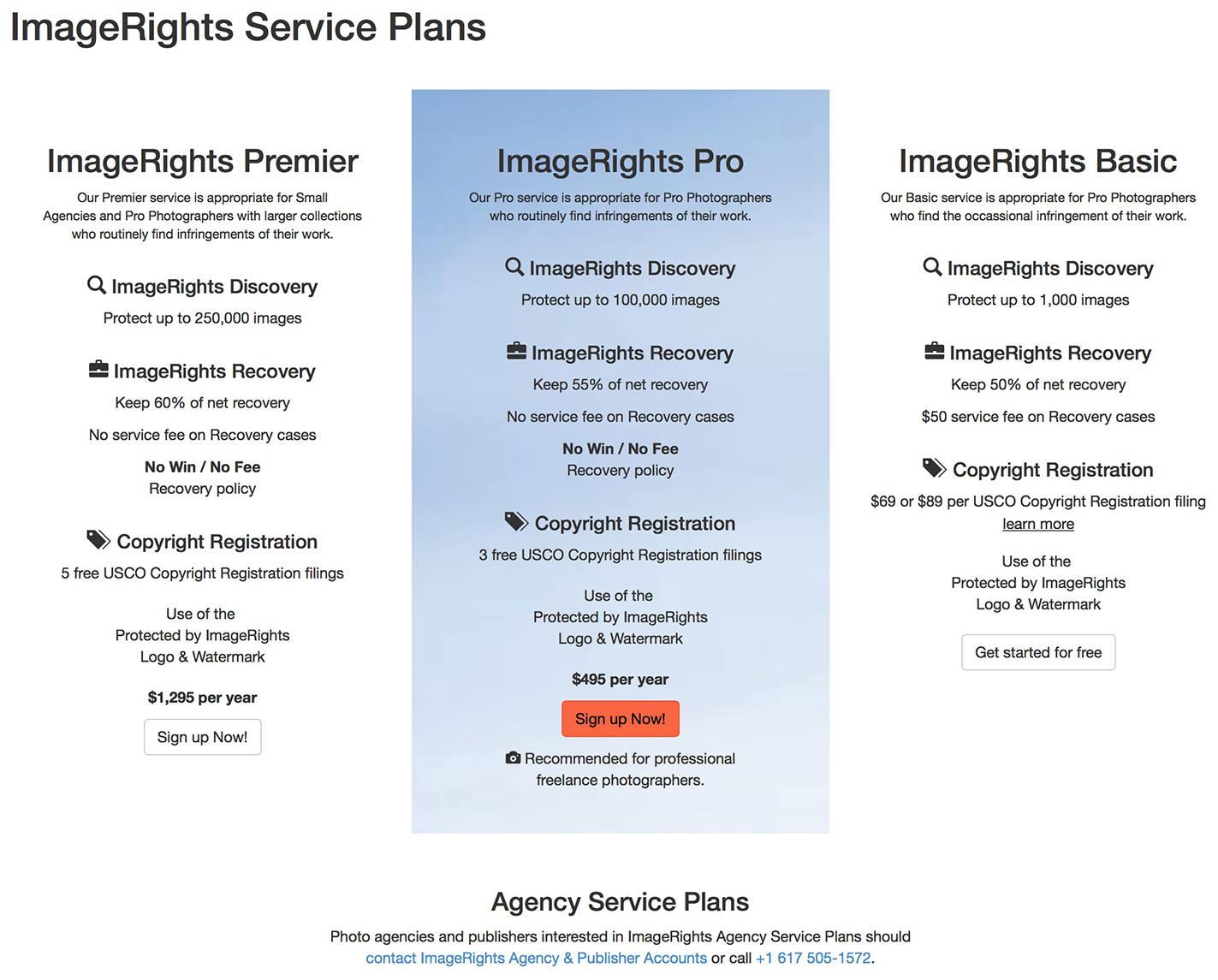 After your email address is verified, you will be automatically directed to the Dashboard. This is the hub of all things Image Rights™ (IR). You will see my Dashboard below.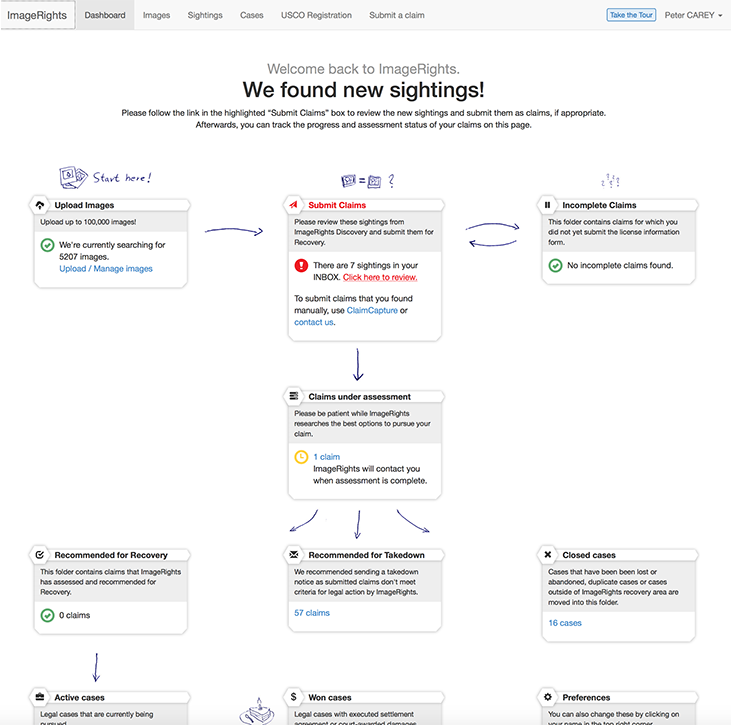 I love the simple flowchart method they use for tracking infringements. You start by uploading images (more on that in a minute). IR then informs you when they find a match.
Next, enter your claims for IR to investigate (once entered, they can be found in the "Claims Under Assessment" section). IR will then suggest an attempt to recover fees, suggest you send a takedown notice, or simply close the case with an explanation.
If you are starting with the basic package, each attempt at recovery will cost you a $50 service fee. This is upfront and does not guarantee any payout.
If a recovery is made, you will receive 50% of the net recovery (some law firms charge IR a fee upfront and some take a cut only if a recovery is made. This will be explained in a later section).
It can be difficult at the beginning to determine whether you should pay the $495 annual fee, and pay no individual service fees, or simply fork out $50 each time you want a case run to ground.
… sometimes there is blatant commercial use of an image and it is nice to know there is a company that will help you recover what belongs to you.
In my experience, I started paying individually and then switched when I saw a growing number of infringements that merited action (as I got more images uploaded).
It was also an advantage for me to be able to upload more than 1,000 images.
Your mileage may vary, so my suggestion is to determine how many images you want to upload, how much of that is already online (and also break down how many of those are on social media as well as your own site or Flickr, etc.).
Whew! Are we there yet?
Just about. Next, you should establish what your images are worth. It's best to have this in mind before you start getting hits, because you'll be asked anyway. How much would you license your image for one year of use?
Do you have any prior sales to back that up? (Asking for $10,000 per image when no one has paid you that amount before is a bit unrealistic.) You'll need this number soon enough.
Upload Your Images
There are two ways to get your images to IR: standard upload and a Lightroom Publishing Service.
To start a standard upload, click on the Upload/Manage images link on the Dashboard.
The next screen will display all your image sets. These are useful groupings that are entirely up to you to set. You may organize them by subject matter or by time frame, as I have done here. The choice is yours.
Click on the Upload New Image Set button to start your first set (TIP: you can move images from one set to another later on, so don't worry too much about your first set).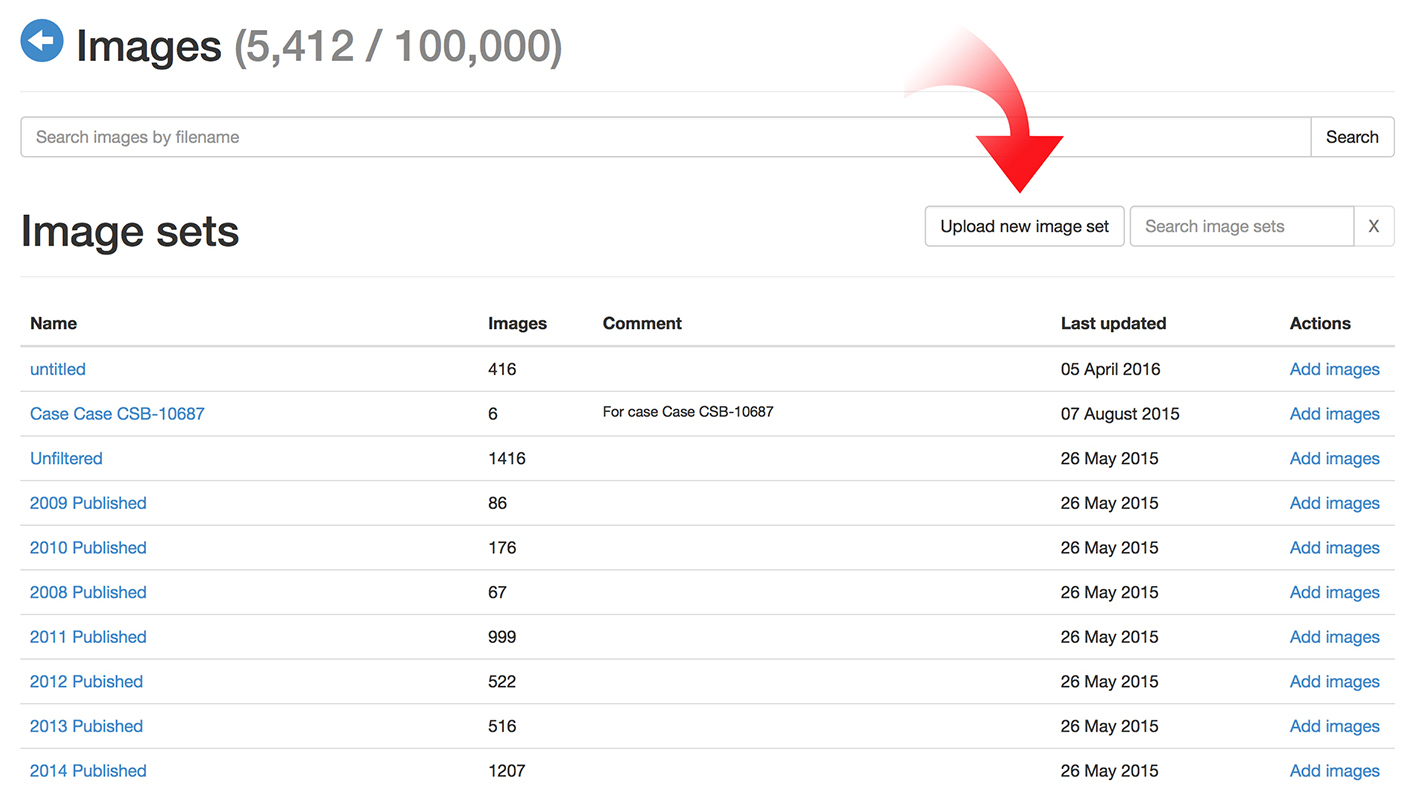 Give your image set a name, and then click Create image set.

Now you're ready to upload images. The next screen gives some guidelines for what you should upload. While they take all typical image formats, they suggest using .jpg, between 800 and 5,000 pixels on the long edge, with a size no larger than 25MB.
Remember, you don't have to upload originals here, just a decent copy. I suggest something in the middle, around 2,500 pixels with high .jpg quality.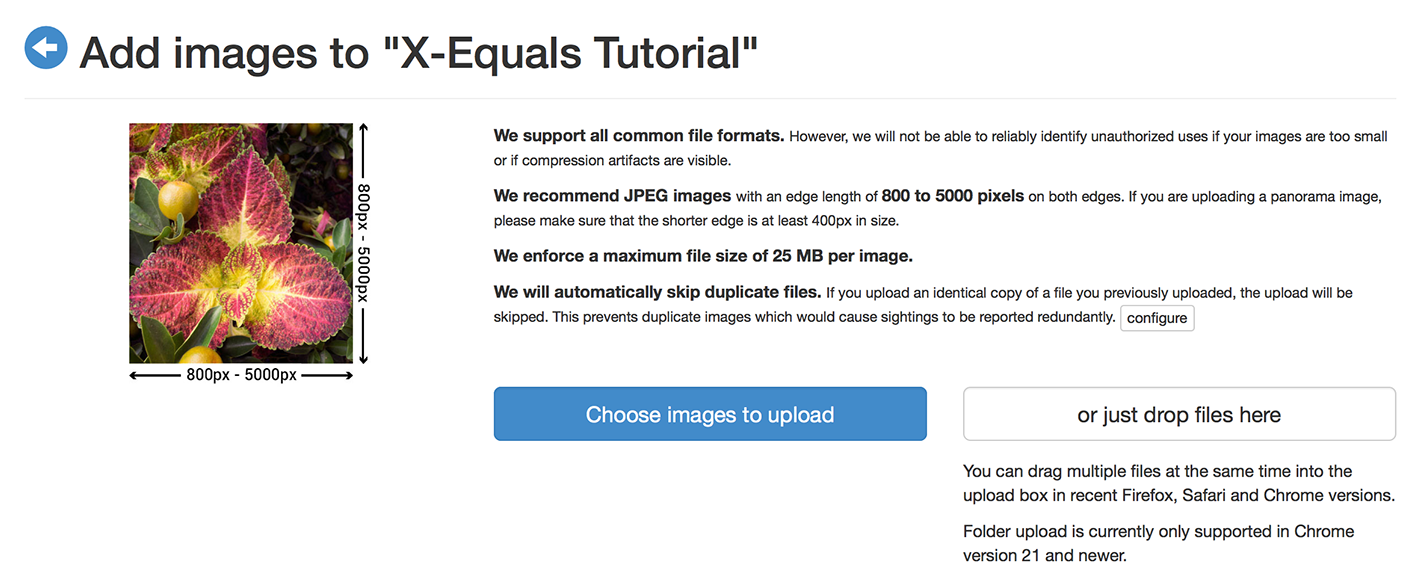 As methods vary between systems, I'm not going to go into vast details about what happens when you click Choose images to upload. Suffice to say, uploading images to IR involves the same process as simply uploading images to the Internet.
IR also offers a handy or just drop files here feature to speed things up.
While the image uploads, you will be taken to a screen showing progress. In this case, I included an image I already uploaded so you can see what it looks like.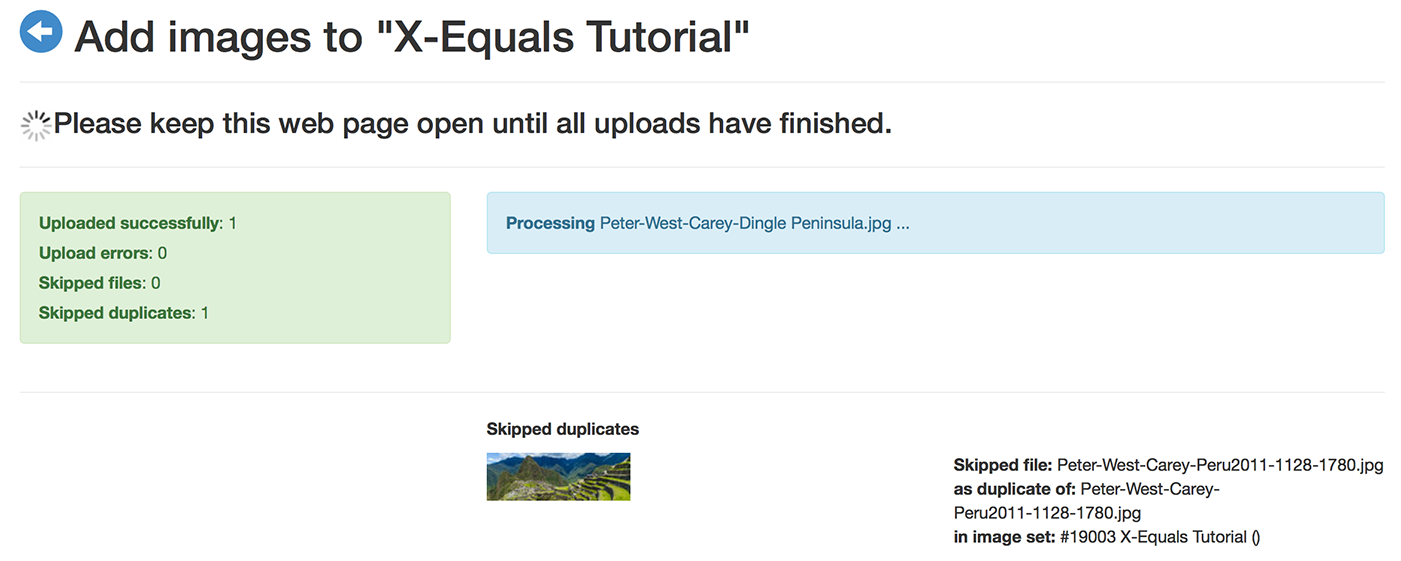 Finally, when all is said and done, you can go back to the upload page in case you want to add more photos.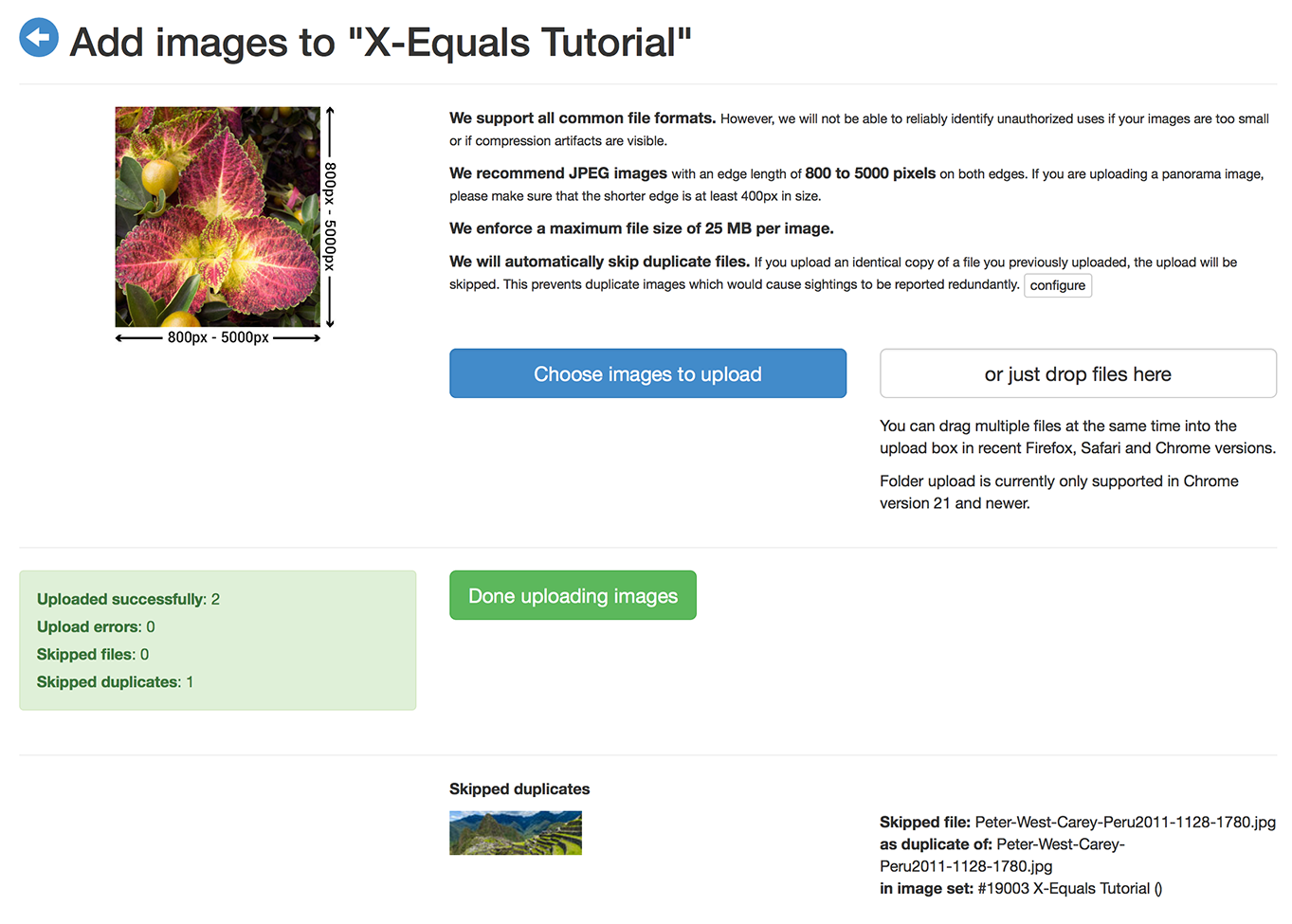 The Lightroom Publish Service is quite handy if you use Lightroom. Here are further instructions for installing and using the plugin and service.
NOTE: While IR does a good job of keeping duplicates to a minimum, if you use both upload methods above, you may notice it doesn't catch everything, even when images share the same file name.
What To Do When You Get A Hit
Once you've uploaded a good sample of your images, it's time to sit and wait for a nibble.
You will get informed by IR via email when they find a match, but the impatient among us can just keep hitting "refresh" on the Dashboard. There is no particular schedule to the discovery process, as it is constantly running, so it's not like checking after, say, 2am is the best time.
Soon enough after you put your first images into an image set, you'll see the middle box change from 0 to something like this.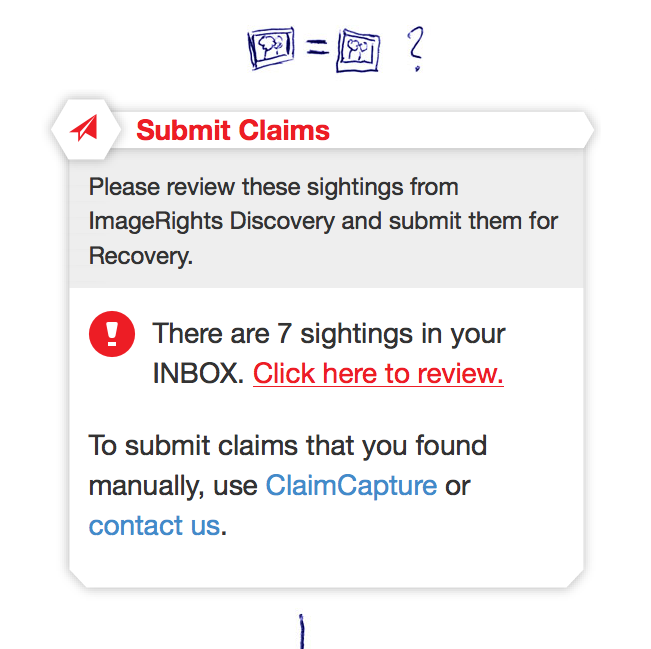 Clicking through that link brings you to your Sightings tab at the top and displays and this screen.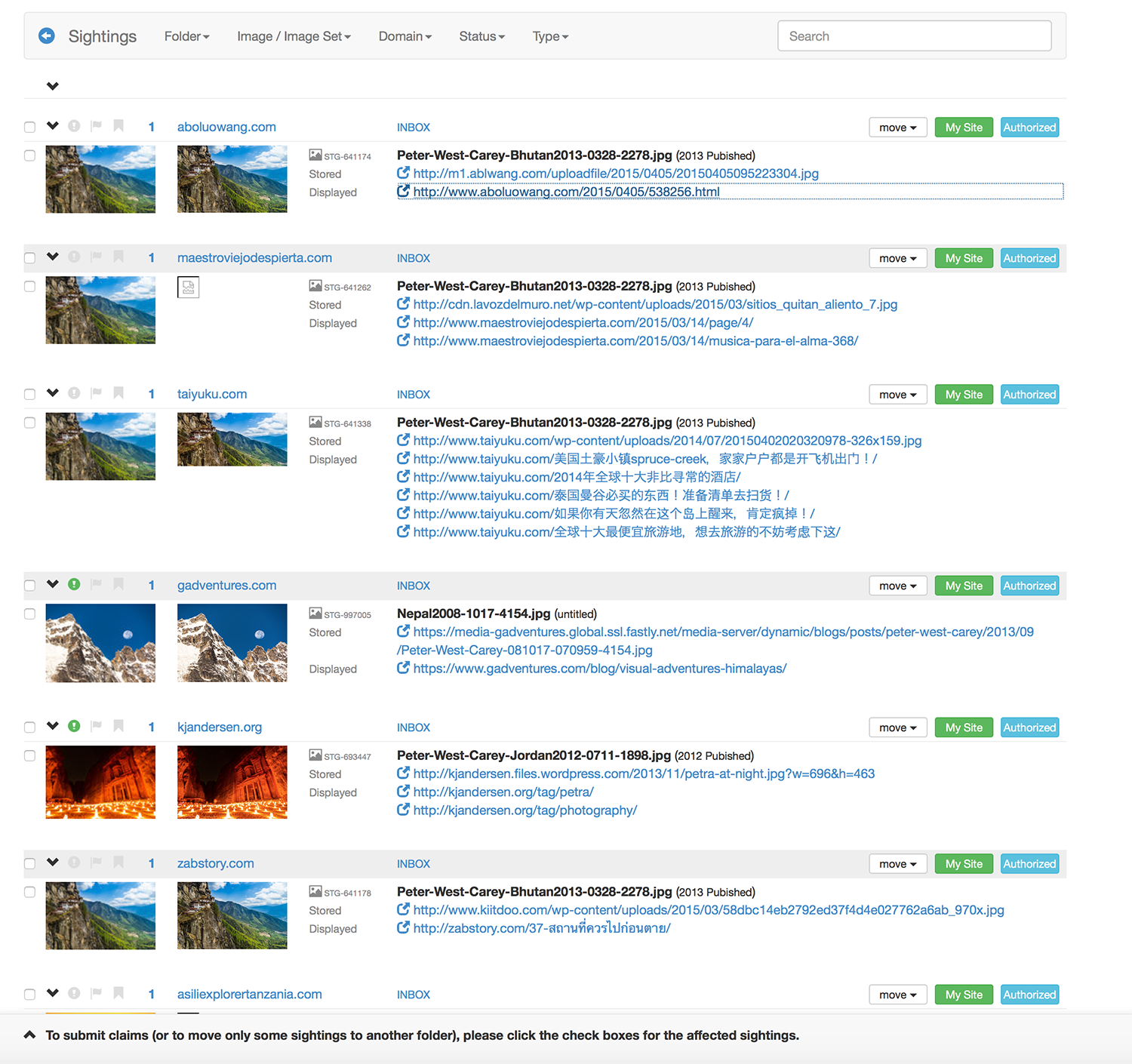 First things first. Let me help you with an insider tip. You may notice two buttons on each line after "move". IR offers these quick buttons to help speed up the process once you find a lot of repetition.
Those two buttons, My Site and Authorized, cut down on my filtering time, as IR does find a number of my images from my sites or sites I write for (those are the Authorized ones).
To set up those buttons, click on the arrow next to your name in the upper-right corner. Then click Sightings Folder.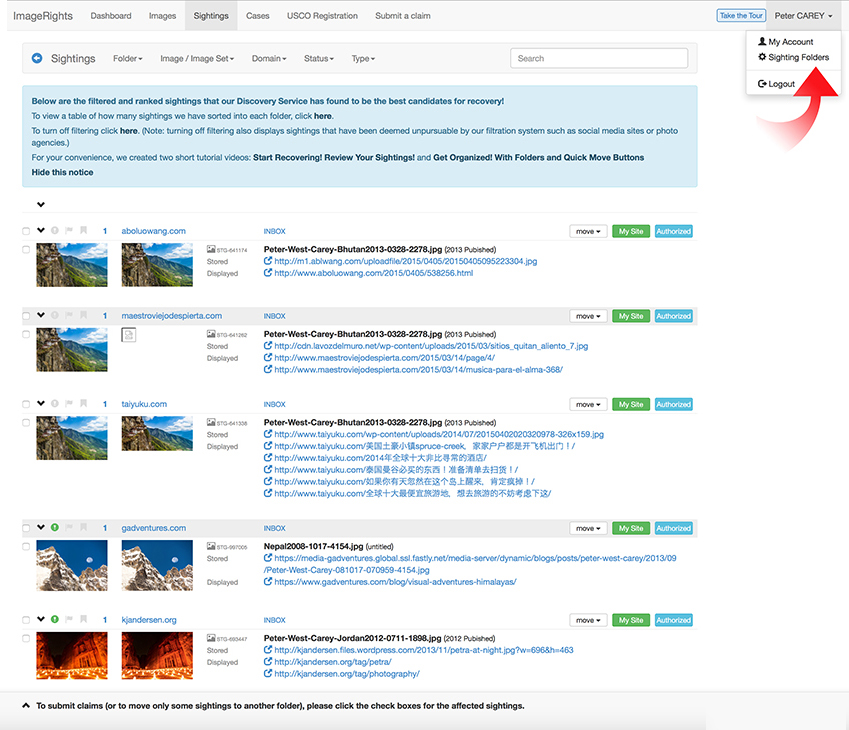 The next screen shows all the categories we will be using later to classify IR's findings. The important part for you is at the bottom. You, yes you, will become a Power User in short order if you have more than 500 images on the site.
The two important folders to use are My Websites and Authorized Use. In this case I picked two colors I like as well as appropriate text. Click on Save quick move buttons and then the Sightings tab up top to be taken back to where you were.
Step 1 – Triage
On my Sightings screen you can see five different sites listed. The first thing I do is to make sure my image (the one on the left in a pair) matches the one on the right.
This may seem silly, but when you take pictures from iconic spots, like the Taj Mahal, false positives can happen.
Second, I visit the infringing site. In the first item on my list you will notice two hyperlinks.
One is to the image as it is stored, and the one directly beneath is for the actual page on which it was found.

When I click on the second link, I am taken to the infringing page.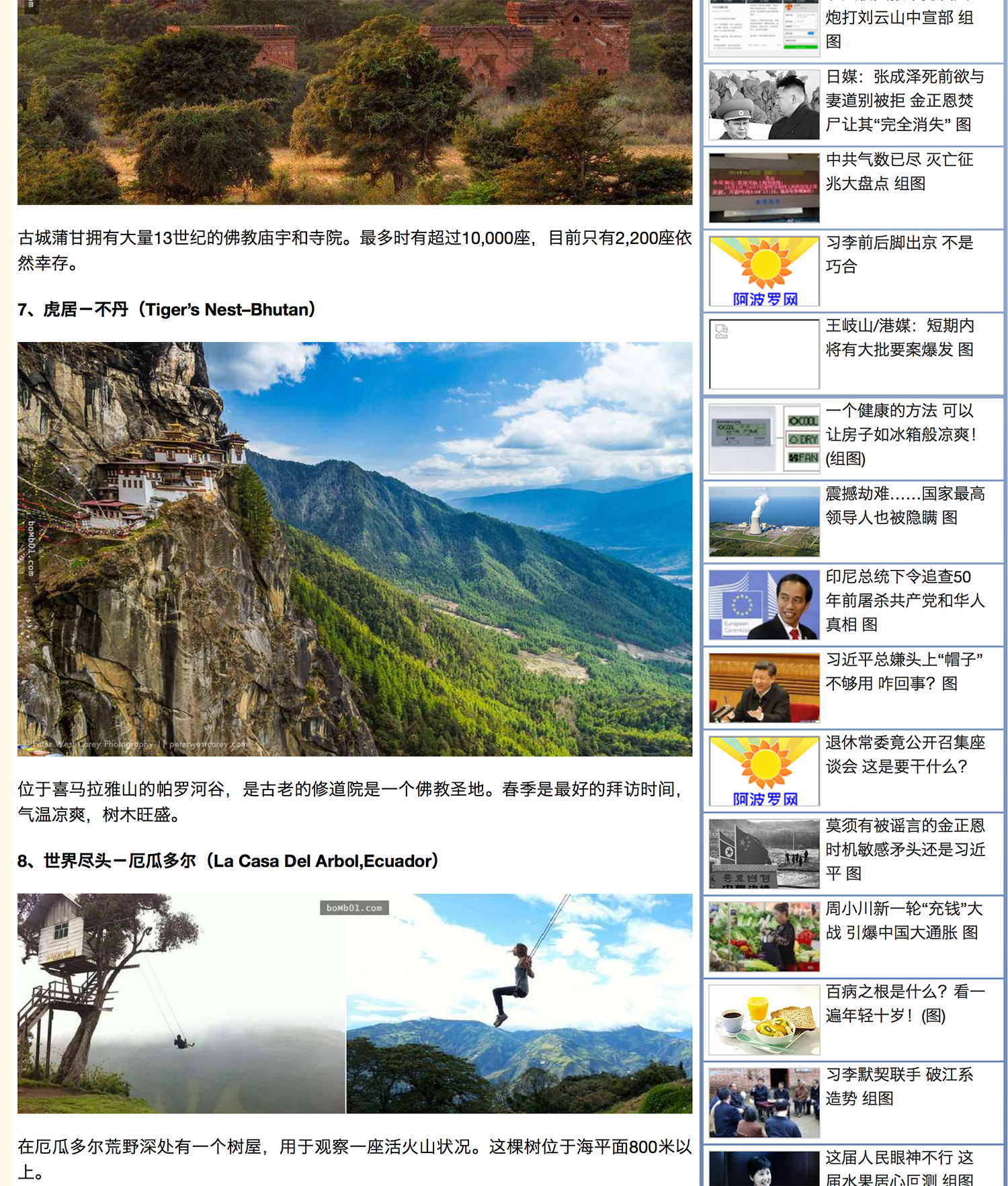 Now is the time to use your brain. You have to figure out:
What kind of site is it? (Commercial, editorial, Facebook, etc.)
Is the image being used as stated?
What are my chances of achieving a recovery?
In my case, I have seen this post before. It is a roundup of pretty pictures and, while I'm flattered my image was used, I'm still annoyed it was without my permission or compensation.
The big question at this point for me is: How likely am I to obtain any recovery of fees from this site? For this infringement, I'm guessing my chances are pretty low. The site does not seem intent on making money and the amount of time I'd spend chasing down info is not well spent.
Step 2 – Take Action
As I'm not going to pursue this claim, I go back to my Sightings screen, click on the move item just to the right of the website in question and choose Unable to Pursue.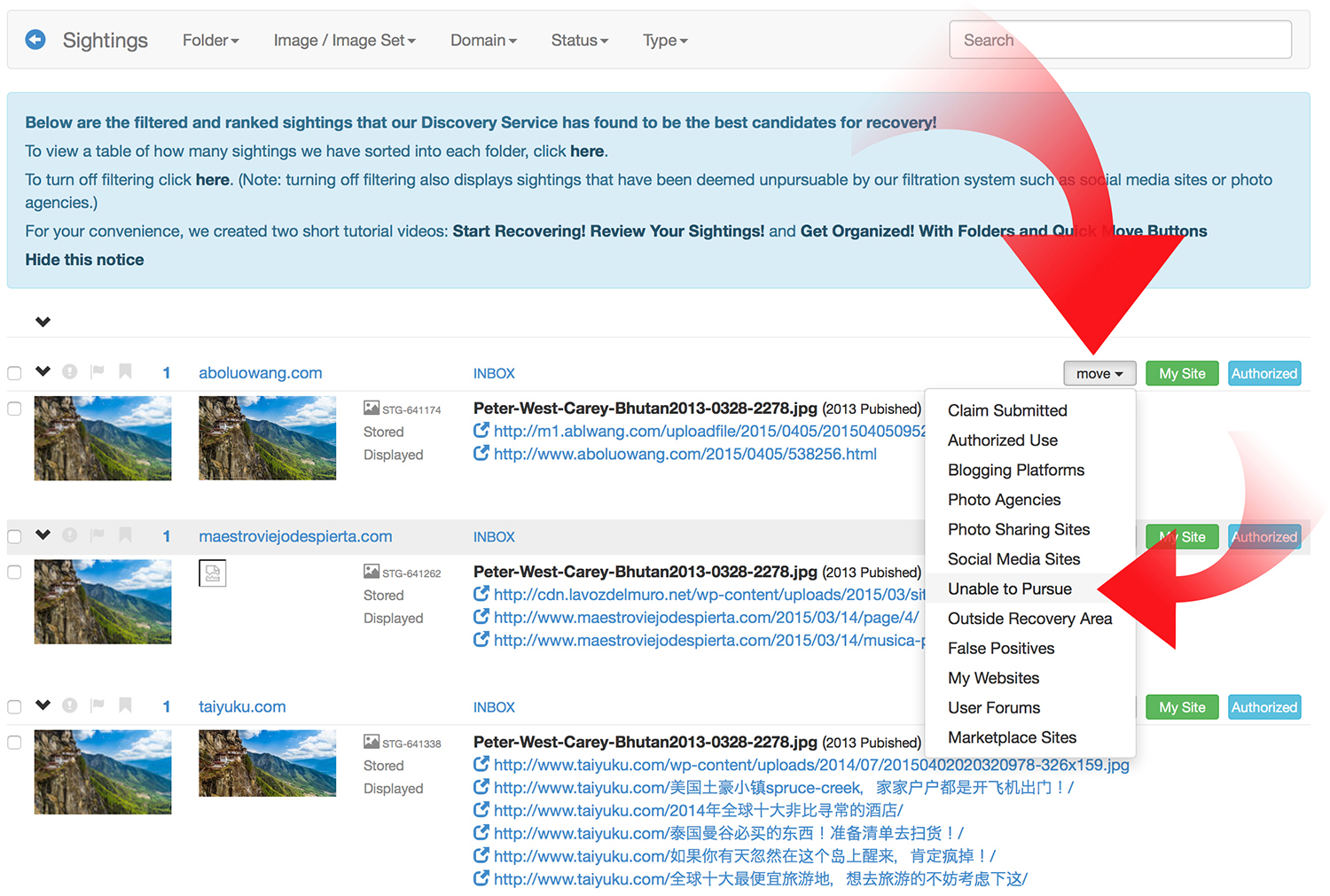 You will see from that drop-down list that you have a number of options, from blogging platforms to photo sharing sites and more. When you start out, don't worry about fitting your finds into all these categories.
I suggest weeding out the ones you authorized or belong to your own site and submitting the rest for inspection by Image Rights™.
I'm going to use an example here that I know is an authorized use. It was a post I wrote for G Adventures and an image I supplied. While I authorized them to use it, I'll still show you the submission process with their finding.
First, click the checkbox to the left of the website name.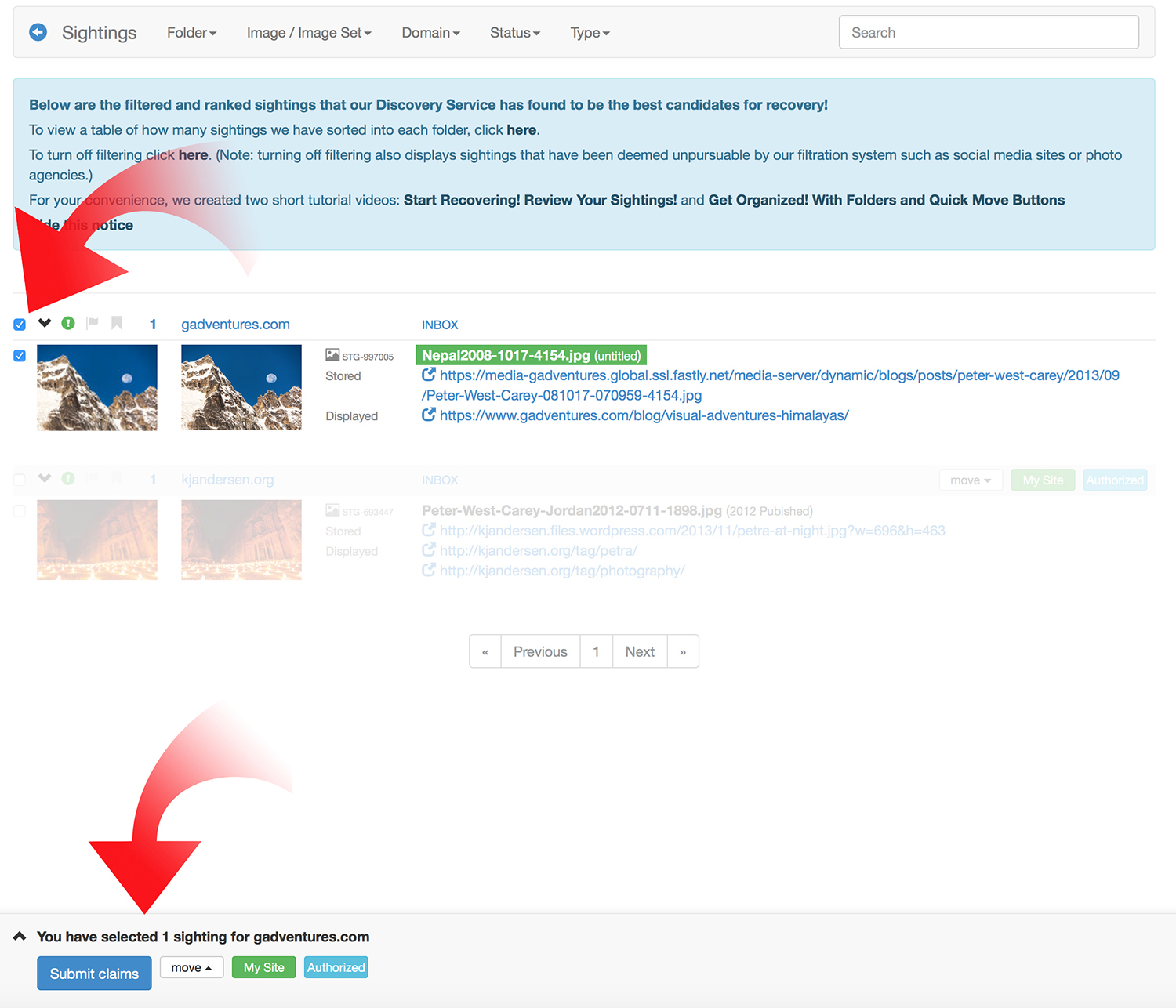 At the bottom of the screen, you will see a new area highlighted that again allows you to move your item or submit a claim. Click on Submit claims.
Up pops the Prepare Case screen.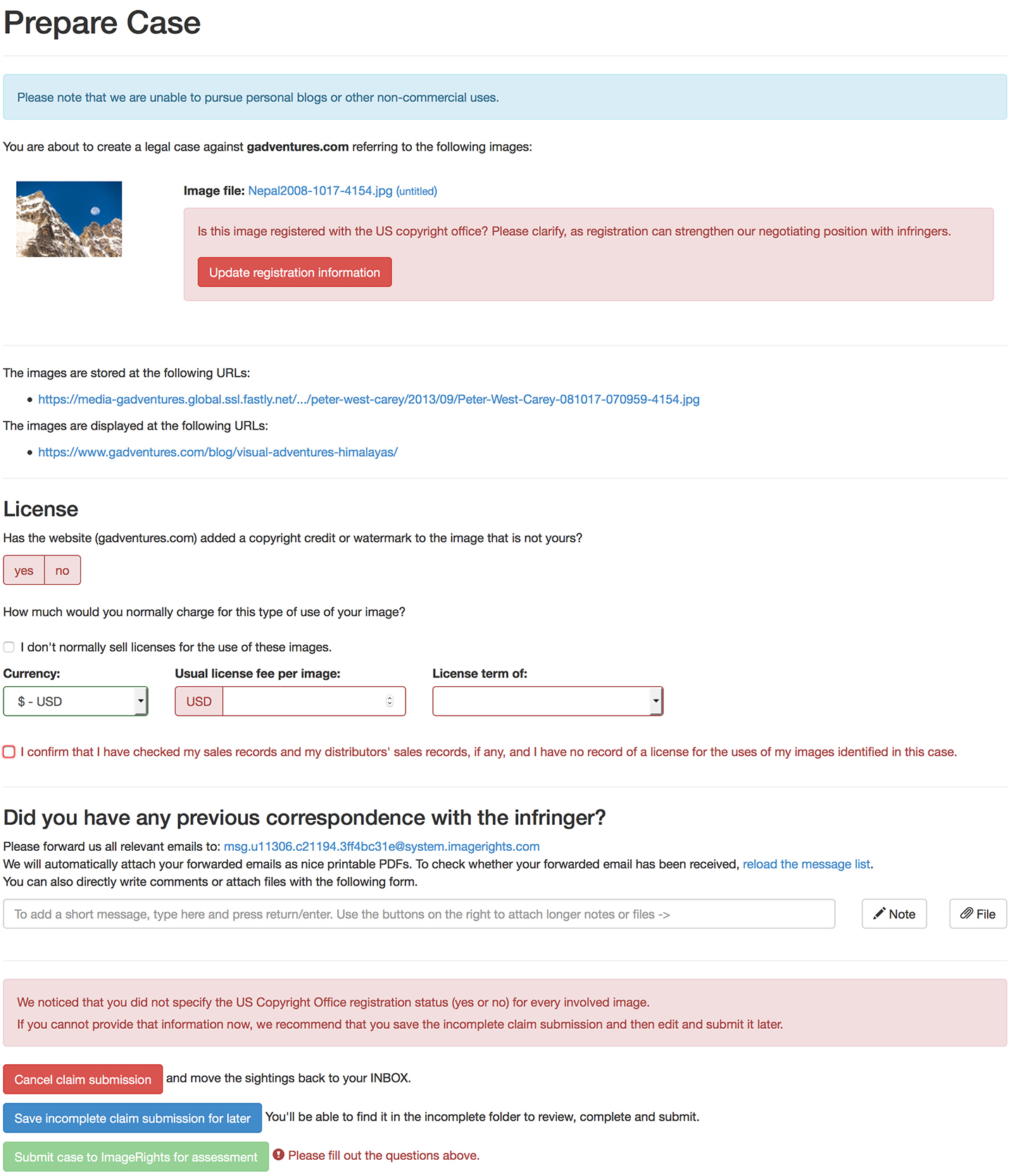 The first item is Copyright Registration. We'll cover how to use IR to submit your images for copyright registration in another article on XEQUALS. For now, if you leave this section alone you can still continue with the submission process.
Below that is a recap of where the image is stored and where it is displayed. Click these links one more time to double check that all is as it should be. I sometimes find, if I haven't checked the queue in a while, that they lead to 404 errors: file or page not found.
Next is an important question: Has the website added a copyright credit or watermark to the image that is not yours?
In the U.S., when infringers mess with watermarks or add their own, they can get into more trouble if the case goes to court. The Digital Millennium Copyright Act (DMCA) allows for extra damages to be recovered if there is intentional removal or additions of watermarks.
When you view the next section listed under License, you'll see why I told you earlier to price your work. This is where you enter your prices. IR includes a checkbox here that reminds you to review your records to make sure you didn't actually license this image through a stock company or another entity.
It's an important step (I once filed a claim against a forgotten stock company site for which I later found actually had the proper licensing all along).
They also want to know if you have had prior contact with the infringer.
The box at the bottom is for your comments. An actual human will be reading this section, and I have had good luck with explaining what's going on if there are unique circumstances.
For instance, I had multiple images that weren't caught by the automatic scan when they found an infringement. I noted that in the comments, and all the images were later properly attributed to the case.
At this point you can submit your claim, cancel it, or put it on hold. I have had cases on hold for a couple months while I dredged through and found some bit of needed info, so don't worry about putting things on hold if you aren't ready to pull the trigger.
If you know of an infringement that IR hasn't found for you yet, they offer an opportunity to submit a claim. Click the Submit a claim menu item at the top of any screen, and you will be presented with this page.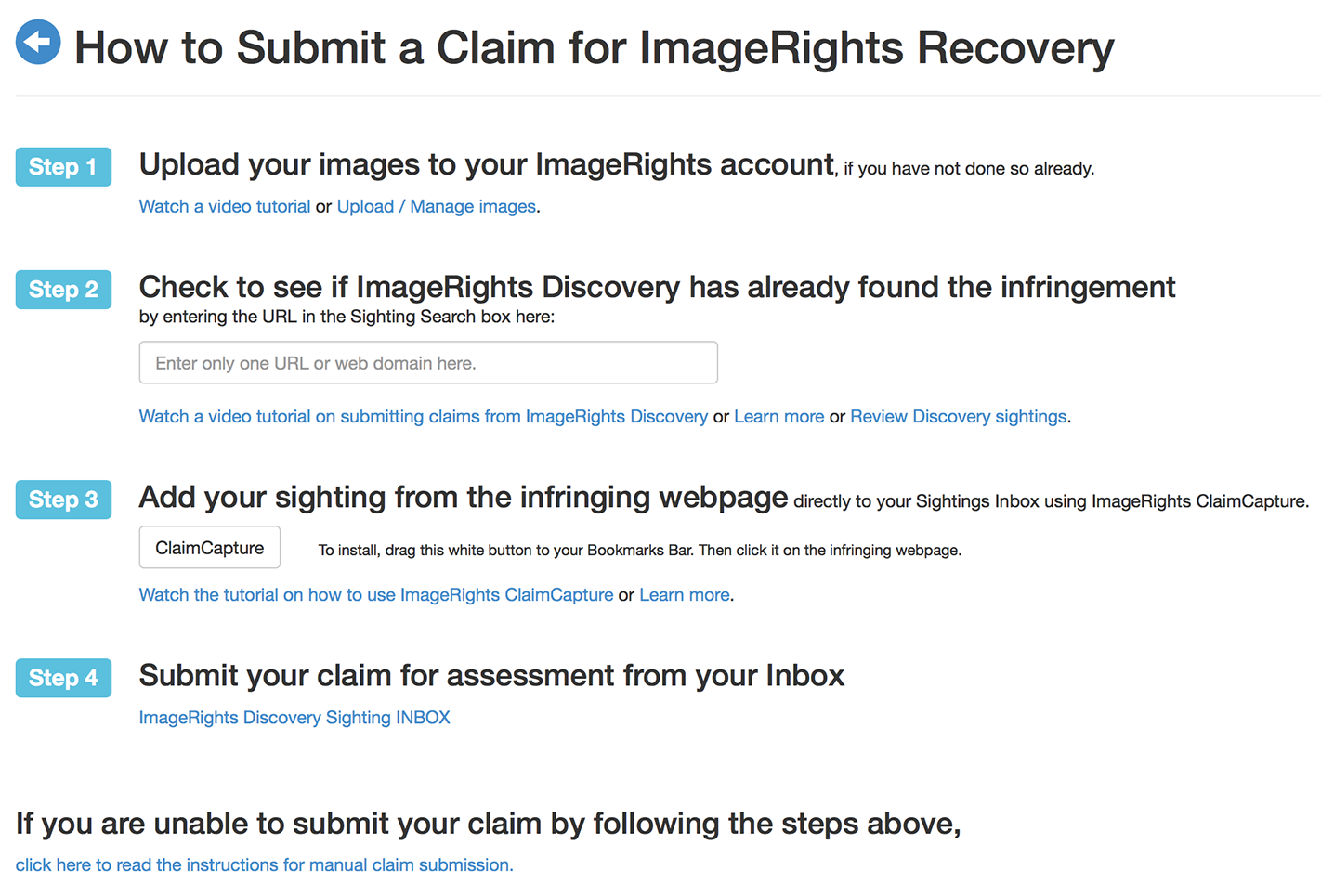 If all else fails, the bottom of that page offers a link with instructions on how to email your claim and all its supporting information to IR. I used this for my last claim, and it took only five minutes to complete. I also received a response later that day.
Now What?
Your claim will now move down to the Claims under assessment section.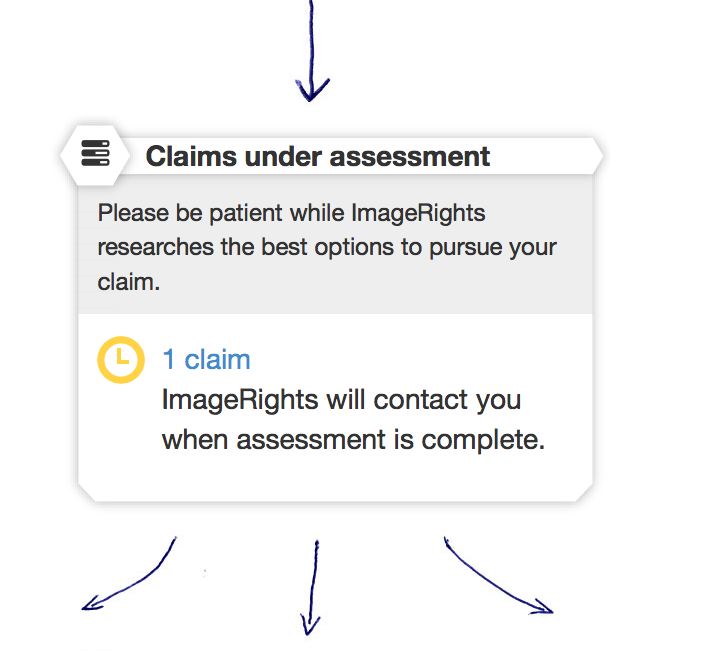 And now you wait. And wait. And wait.
Depending on the queue (which you can't see) ahead of you, it might take 5 hours or maybe a number of days before IR inspects your case. Once assessed, they will give it one of four different designations:
Recommend recovery attempt
Recommend take down
Close the case
Request more info
If they recommend a takedown notice, it is up to you to contact the infringer and submit your request. IR picks this item often when they don't believe you will see any financial recovery but know that your image should be rightfully removed.
They will close your case if it is a duplicate or not valid for some reason. They may also request more information.
But we are most interested in the top choice, when IR recommends a recovery attempt.
If you are using the basic service, you will be asked to pay your $50 fee at this point. IR will list out the expected amount the infringer will be presented with (mind you, there are always negotiations) and what to expect as payment if the case is successful.
You may also need to sign a power of attorney for the legal firm IR uses to argue on your behalf.
Here is an example of a case I accepted and the terms I laid out (some information has been redacted):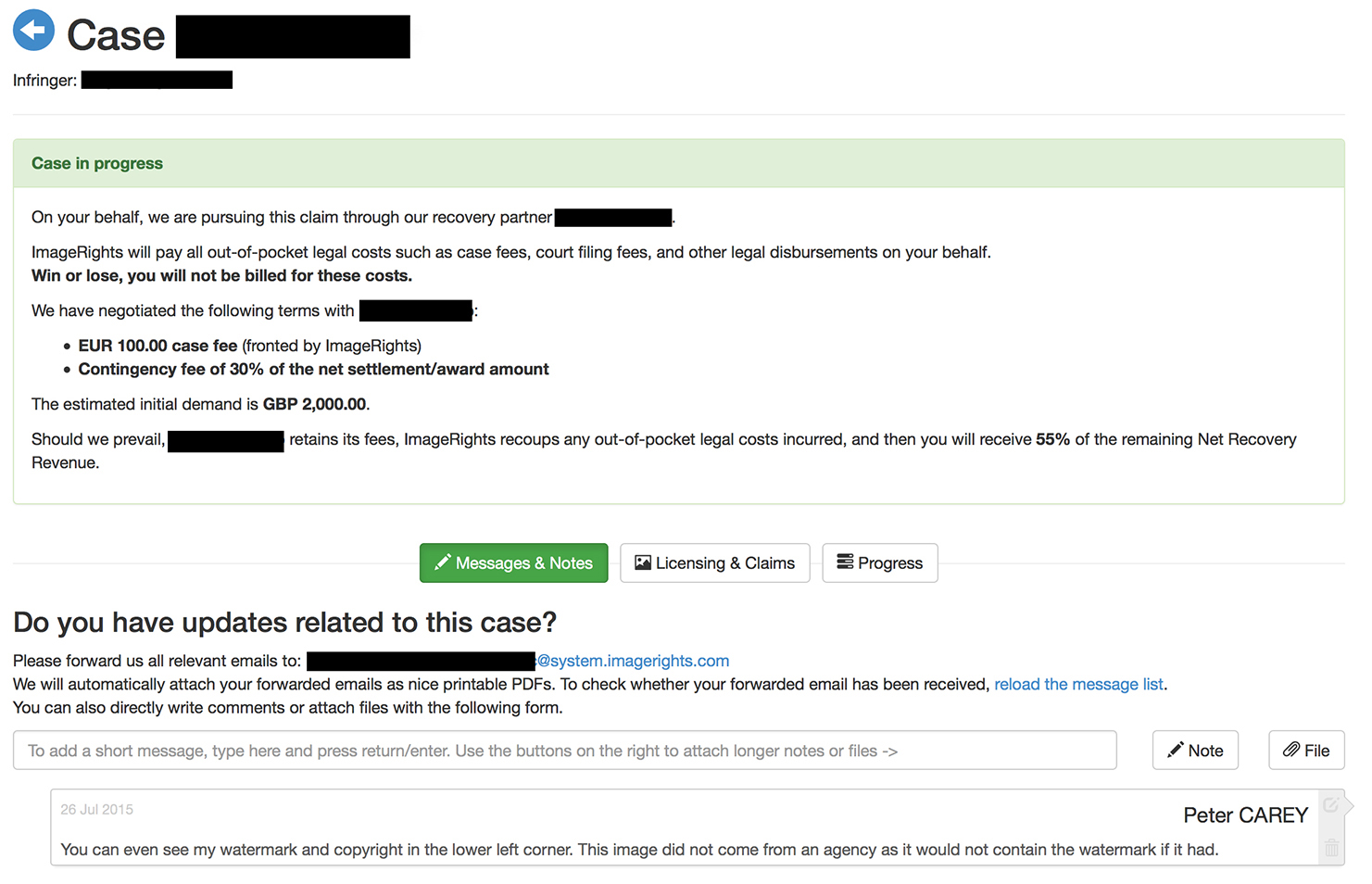 In this case, if the legal firm were to recover the entire £2000, IR would take out the
£100 they fronted for the court costs. That leaves £1900 minus the 30% contingency fee for the law firm, or £570. That is the net distribution, of which I get 55% for having a pro account, or £731.
And that would be a good payday. If it comes.
Winning And Getting Paid
Winning is great, but it might take a while. I have a case in the queue right now that has been sitting for a year. Others are close to that. On average, I would say my current pace is to wait about 7 months before I win a claim. And that's for the ones I win.
Sometimes cases are closed after being open when the law firm realizes they can't squeeze blood from a turnip. I once had one of my images used quite blatantly by a small, local law firm itself.
Three days after opening the case I noticed the offending firm had changed the image for another and about 4 months later my representing firm stated there was little to no chance for recovery.
As the infringer was a lawyer himself and had no actual cost to defend himself, he would stall the case and make it not worth my firm's while to pursue. So goes life in the legal world.
One of the best emails I receive looks like this: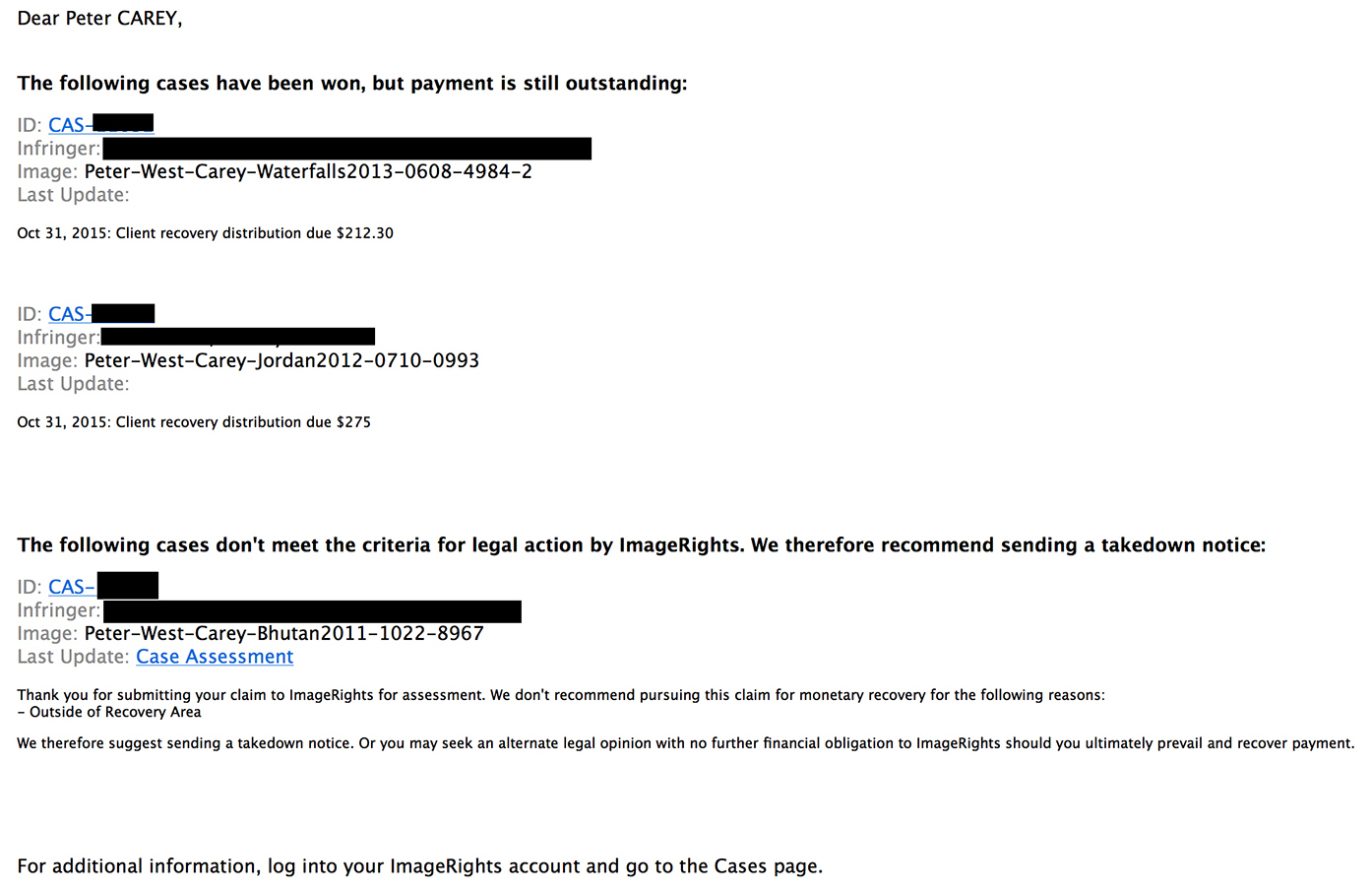 In this instance, I had won two cases and had the third rejected (this was from the assessment phase, they combined the announcements in one email).
You get paid when IR gets paid. It's not always fast and instant, so be prepared to wait a while. My fastest payment occurred within the month, and the slowest took about 4 months.
Oh! One more thing. There is an important set of checkboxes in the My Account section (obtained by clicking your name in the upper right corner and clicking My Account). It looks like this:

It's a standing order for what IR and their legal firm should do in negotiations with the infringer. As you can see, it is your opportunity to have some input if you think IR should be getting a larger settlement.
If you want to know the truth, most of these cases never go to court … but they certainly can. I would have to have a pretty big infringement from a well-to-do company before I pushed things that far.
Conclusion
I hope this intro to how Image Rights™ works has been helpful. We'll cover the copyright registration they offer in another article, as it is a little involved.
I have found Image Rights™ to be an excellent vehicle for taking back some ownership of my images on an Internet that often believes, "If it's on the net, I can use it".
It's not worth going after small-time bloggers, and it's only worth sending takedown notices when your image is used on Flickr or Facebook.
But sometimes there is blatant commercial use of an image and it is nice to know there is a company that will help you recover what belongs to you.